Product name: IP69 Waterproof FULL HD Front And Rear Dual Cameras Dash Camera For Trucks, Semi-Trucks,Lorry and Commercial Truck.
1080P/720P Truck Dash Cam Apply For all Kinds of Commercial Truck
Main Product Feature
1,Truck lightless Dark night vision Camera DVR full color recording equipment
2,Wide voltage 9-60V design, pick-up truck ACC constant power, 7 inch HD IPS Digital Monitor,
3,Front and rear dual recording, 1080P FHD, truck-specific streaming media recording,
4, Backup rearview, loop recording, two-division display, Spilt, Picture-in-Picture Display Switchable
5, Waterproof 170 degree wide Angle Lens Camera, Bracket, suction cups, diverse installation methods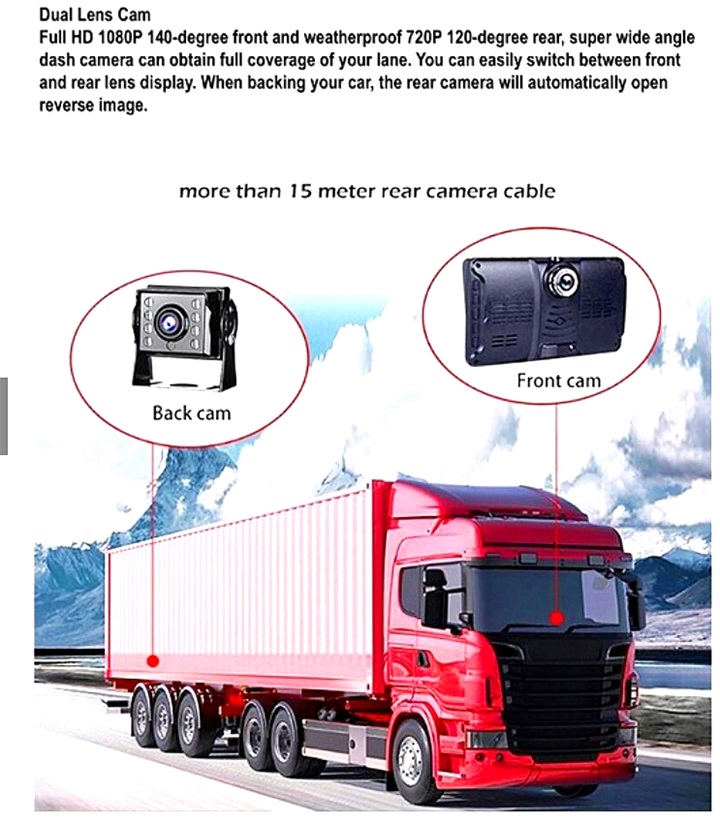 Benefits of Dash cam For Trucks
1, Record driving video and evidence anytime during driving
If the guilty party flees the scene, and you don't have a dash cam recording the incident, the blame (and the cost) may very well fall to you. But with a dash camera recording your every move (and every move of the vehicles around you), you have the evidence you need to prove to your insurance company and law enforcement who really was at fault.
2, Dash Cams For Truckers Drivers
Save your money and time uncomfortable experience of having to argue your case
In a fleet of large commercial vehicles, equipping each of the trucks with a dash cam ensures not only the safety of the vehicle (and the driver) but also guarantees that the driver always drives safely and performs at his or her very best. With a dash cam in the cabin a driver is far more likely to drive courteously on the road, especially if he or she believes that the boss is going to review the footage later on.
3, the footage from these dash cams can be used as a training tool for new drivers
4, Helping settle insurance claims quickly and fairly, Dash Cameras For Trucks in fleet vehicles have also been known to lower insurance rates around the world
5, Reduce and avoid unexpected incident because of big vehicle Blind Spots
If you collide with another vehicle who was riding in a blind spot or a no zone, and you have the footage to prove it was not entirely your fault, you may avoid getting docked with the blame and incurring full responsibility for the accident, and this may prevent you from losing your job or having to pay out of pocket for the inevitable spike in insurance that results.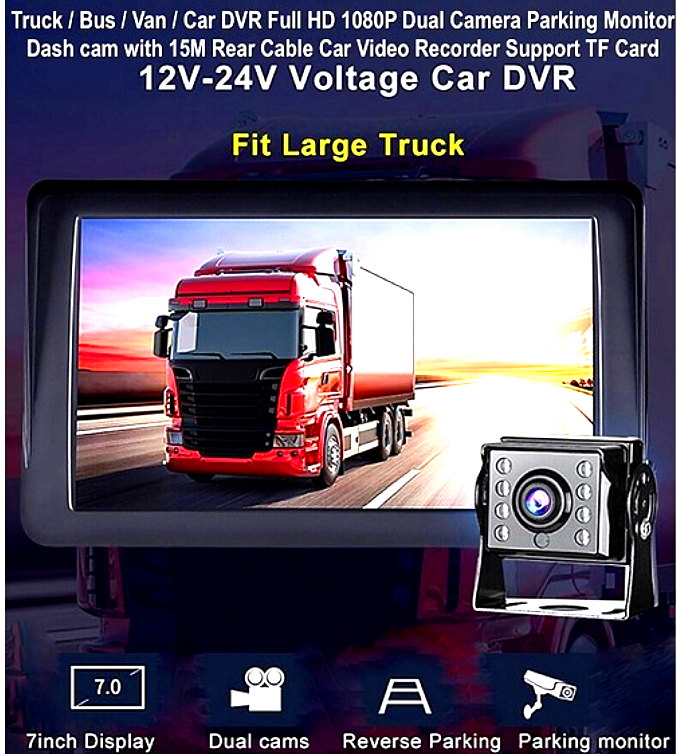 Product Advantage of Front Rear Dash Cam For Trucks
(1) 7 inch IPS Anti-Glare Screen
1024*600 Resolution with IPS Anti-glare screen, effectively reducing reflections caused by strong light, presenting the mast authentic and clearest visual feast
(2) 1080P FHD Dual Recording
Front and back dual recording, Dual Display on the same screen,Combine with multiple display modes to give you different picture presentation effects, dual guarantees provide strong evidence for driving and escort your safety
(3) Multiple Display Modes can be switched at Will
A, Full-frame Display
B, Two-Split channel Display
C, Picture-in-picture Display
(4) 1080P 6-LAYER FULL GLASS HD LENS
With flagship image sensor, 6-layer all glass high definition lens, front 170 degree easily covers the panorama of the three lanes, automatically fills the light at night, restores original colors and the picture is more clear and delicate
(5)Heavy Duty Dash Camera 1080P IP69 Waterproof Infrared Night Vision Backup Camera
using digital high definition solution, combined with four LED induction fill light, to achieve a full color picture effect at night same as daytime.at the same time, due to the carrying of streaming media. the signal is transmitted in real time, the picture is high fidelity and it is perfect to control all kinds of bad weather, rain, fog, glare suppresion, anti-glare etc.
(6) Two installation methods
Provide in the control of the base, suction cup, holder two installation methods,
the customer can be any combination
(7) 9-60V Wide Voltage Design
Cancel traditional vehicle charging and charging methods, take power directly from the ACC of The truck, Save the problem of overcurrent and overvoltage of the equipment.it is perfect for various Commercial vehicles such as passenger cars, trucks, light trucks, earth trucks, sanitation vehicles, school buses and small car field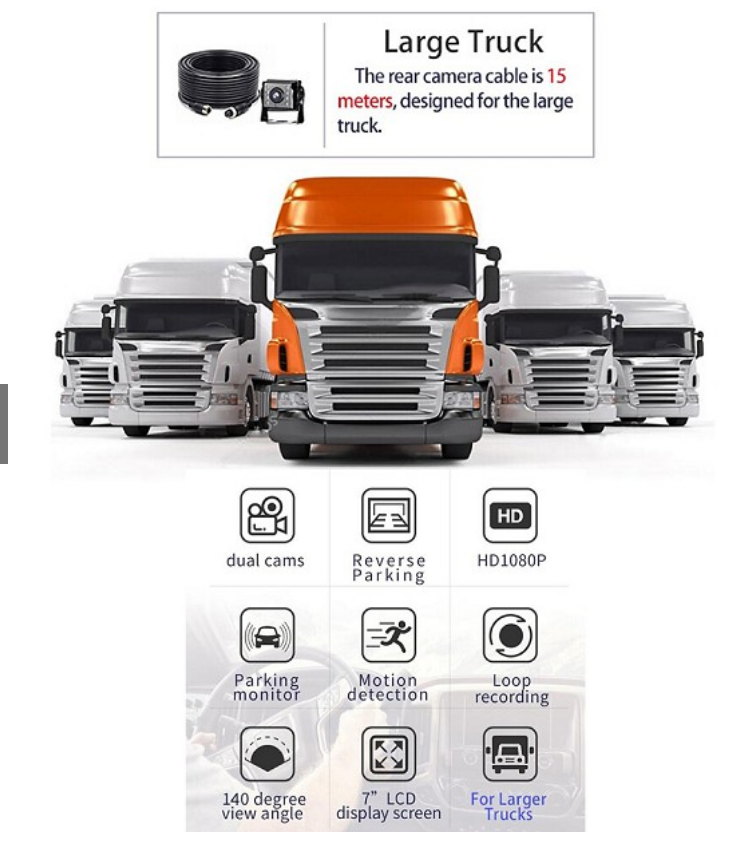 Product Specification of Semi Truck Dash Cam
Item

Technical Data

Product Name

Dual Camera Truck Dash Camera DVR System with Monitor Display For Trucks

CPU Chipset

Dual-Core CPU: GPCV6248

CPU Core speed

800/480MHz

RAM

DDR1: 64MB, FLASH: SPI 8MB

External Memory

Micro SD/ TF Card:32G-128G (Class 10)

Size of Monitor

7'' TFT

Operation Mode of Monitor

Mechanical Key Button

Resolution of Monitor

1024*RGB*600

Car Camera

Built-in Front Camera in 1080P/720P Resolution

Camera DVR Function

Support Front and Rear Camera Video Recording Synchronously

Rear Camera Function

Support Rear AHD Camera in Max. 720P Resolutions (Rear Camera is Optional)

Support Rear Camera Video Recording in 720P/30FPS

Video Recording

Support VGA Signal Transmission

Video Format

AVI

Video Recording Time:

1/2/5 Minutes (Adjustable)

Camera Photography

support

Light Compensation

support

Exposure Adjust

support

Video Output

support

Audio Speak Out

support

Picture-in-Picture

support

Time Setting

support

Built-in G-Shock Sensor

support

Loop Video Recording

support

Audio Recording

support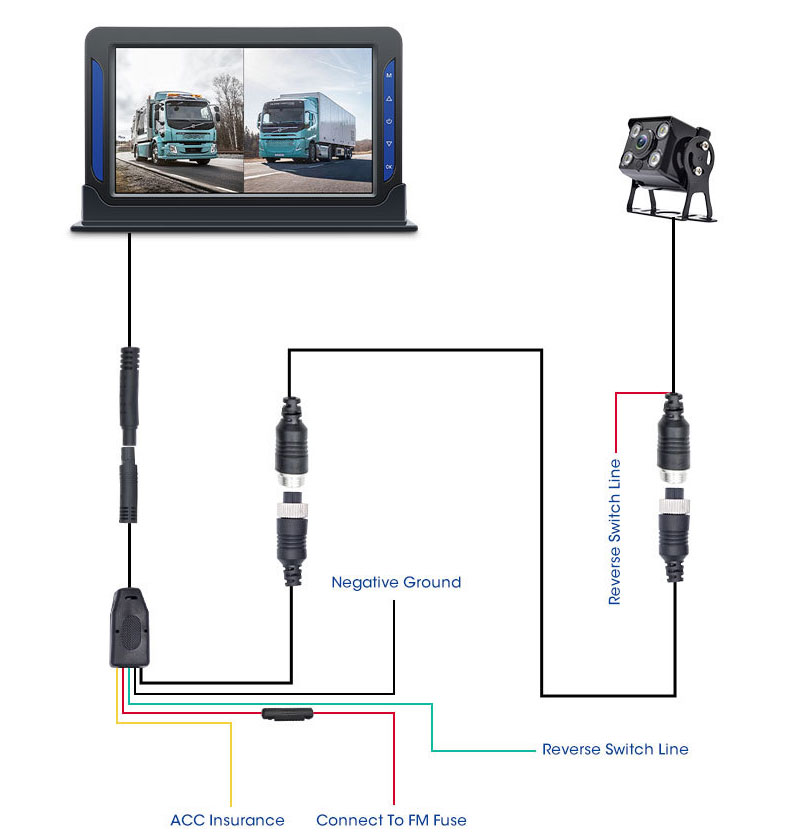 Truck Camera System Combo DVR Kit Accessories included
8-Pin Power Supply Cable
Holder LX-10
15M Avaition Plug Extension Cable
Out Carton
User Manual
One Rear View Camera
Unit package size: 32X21X7 cm, Unit gross weight:1.200 kg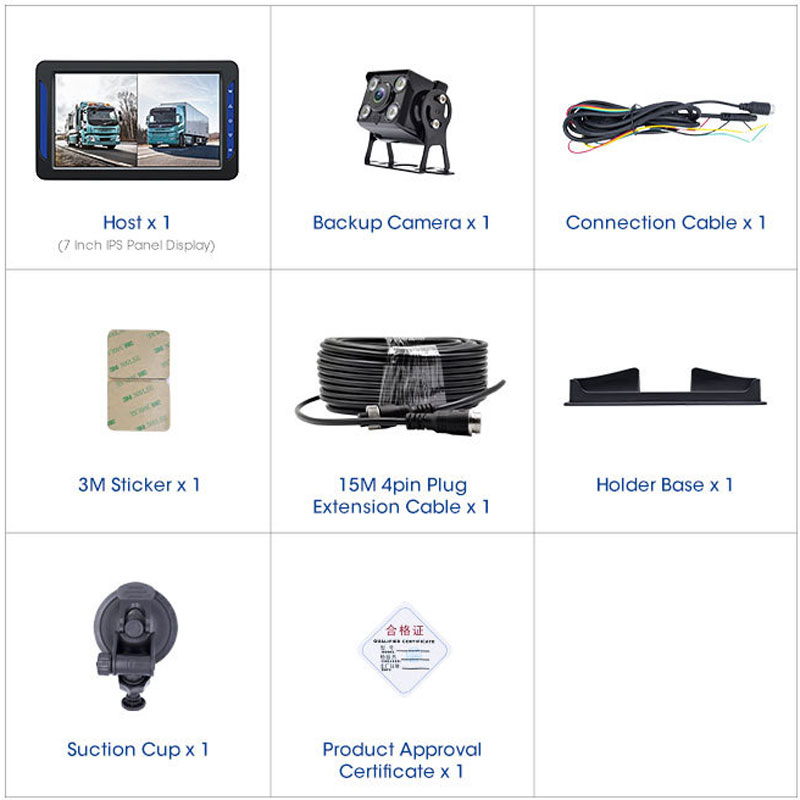 Questions and Answers:
what is Truck Dash Camera?
If driving a truck or semi is the way you earn your livelihood, a dash camera for Truck or Semi-Truck or heavy Duty is a definite must-have accessory. Front and Rear Dual Camera Dash cameras provide truck drivers with irrefutable evidence of everything that occurs on the road. A dash cam is a compact, windscreen-mounted or standalone like our truck DVR Combo, Front view or in-car camera recording everything in front and in some instances the rear of a driver. It can be a motorist's independent witness when involved in an incident, while also saving motorists money on their insurance.
Should you install a dash cam on trucks?
If you install a dashcam in your Trucks, you may never have to deal with this problem again. The presence of a dashcam can help control reckless drivers. The idea of being recorded can also cause them to adhere to the rules of the road. If you own or manage commercial vehicles, this is one of the best reasons to install dashcams .
Production Application of Dashcam For Trucks
1,Passenger Bus, School Bus, Coach, Car, BV, van, lorry, Construction Vehicle, Car, SUV, Agricultural Vehicles, Engineering Vehicles, Sightseeing Car, RV Forklift, Harvester, Minibus, Corn Machine and all other commercial Vehicle etc.
2, This Multi-functional Dash Camera can work and be used on Articulated Truck, Backhoe Loader, Fuel Tanker Truck, Large Dumper, Medium Dumpter,
Rigid Truck, Drawabar Trailer, Small Rigid Truck, Tractor, Waste Truck, Wheel Loader, Heavy and Light Truck, Crane Truck, Semi-Truck, Commercial Truck, Skip Lorry, Counterbalance Truck etc
3, Road Sweeper, Telehandler, Tipper, Excavator, Hybrid Electric Van, Reach Stacker, Road Roller,
4, Dash Camera For Maritime Ship, Airport Vehicles,Airport Baggage Van,Delivery van Vehicle,Military vehicles, Aerial appliance / Ladder trucks, Jeep, Horse-Drawn Carriages