Product Name: 4 Cameras Commercial Vehicle Truck DVR Dash Camera Systems for semi truck and truckers
9" Quad Split Screen DVR Monitor with 4 Truck Dash Cameras For Semi Truck, Multi camera vehicle system with DVR recording Function
Product Feature:
This Semi truck Camera System enables drivers to see objects and people directly behind their vehicle. Meanwhile all in one 4 channles Truck DVR Camera System can record everything video during the driving for truckers easily, Rear view cameras make parking, driving and backing up a safer experience for everyone. It provides rear view safety to every commercial vehicle, prevents life and limb from risks and protects corporations' reputation and assets.We apply our expertise on safe driving to every industry that needs it, including: Semi Truck, school buses, boats, transit buses, commercial trucks, home/RV, emergency, and industrial.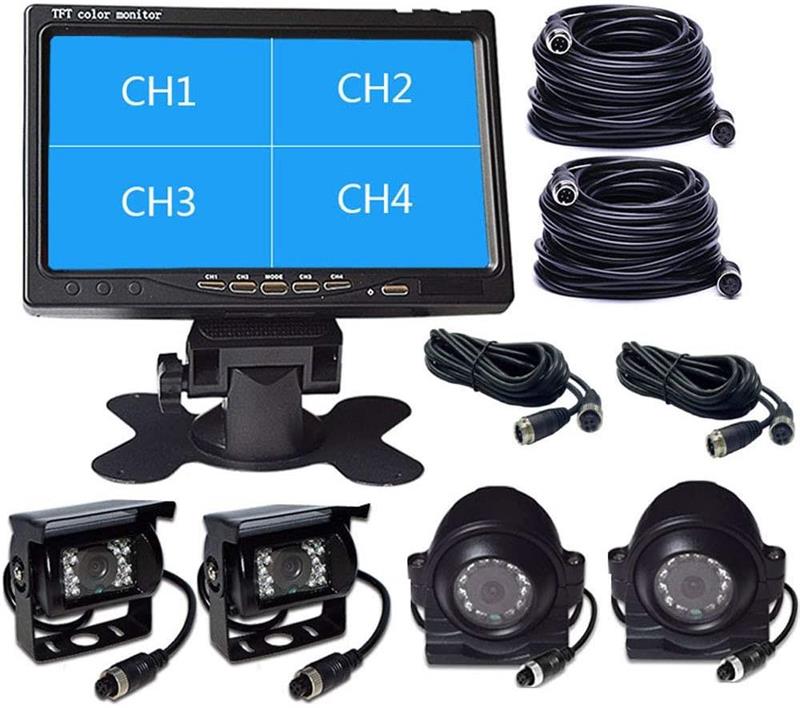 9 inch Full HD 1080P IPS Quad Split Semi Truck Monitor with Dash Cameras
(1)2x AHD mirror bracket mount side view cameras & 2x AHD front/backup mount cameras (camera in truck) , 4pcs Semi Truck Dash Camera
Built up ideal complete 360 surround bird view Semi Truck DVR Camera System
(2)This Truck Dvr Camera System support Quad cameras recording. It also provides instant video playback.
(3) Quad Split high light night vision AHD camera simultaneously recording. Automatically loop-cycle recording.
(4)When vehicle in Reversing Gear, this car DVR will automatically switch to the back-up camera image view with parking line.
(5)If a vehicle collision occurs, the build-in G-Shock sensor automatically locks the recorded video.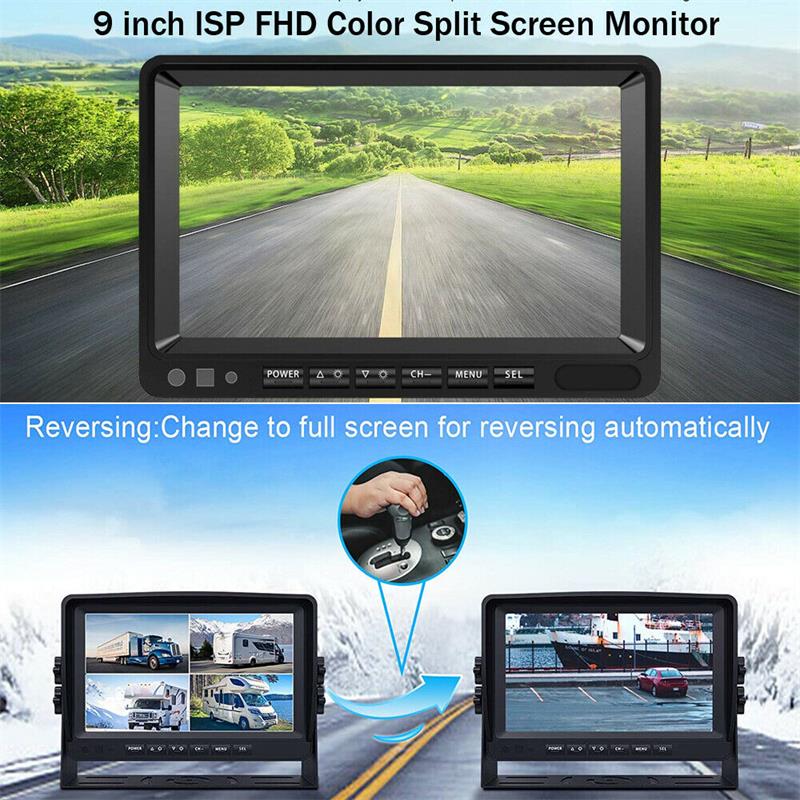 Product Specification of 4 channels dash cams for trucks
4Channels 9" Vehicle Truck Monitor with DVR Recorder for vehicle monitoring system

Screen size

9 inch digital TFT IPS Display

Aspect ratio

16:9

Luminance

350cd/m

Resolution

800*R.N.B*600

Audio & Video

4 ways video inputs, 4 ways trigger, Built-in Speaker

System

PAL&NTSC automatically

Voltage

12V~24V

Language

Russian/English/French/Simplified Chinese/Traditional Chinese/Germany.etc.

OSD menu

Display menu, Brightness, color, contrast adjustable

Video compression format

H.264, Audio: AAC

Built-in speaker

Yes

Video Recording

Support 4 channels AHD720P truck Dash Camera video input, Max128GB Micro SD card, video local storage

Sunshade

Removable

Mode

Full/2/3/4 image adjustable

Set up

Mirror for individual image, can set reverse delay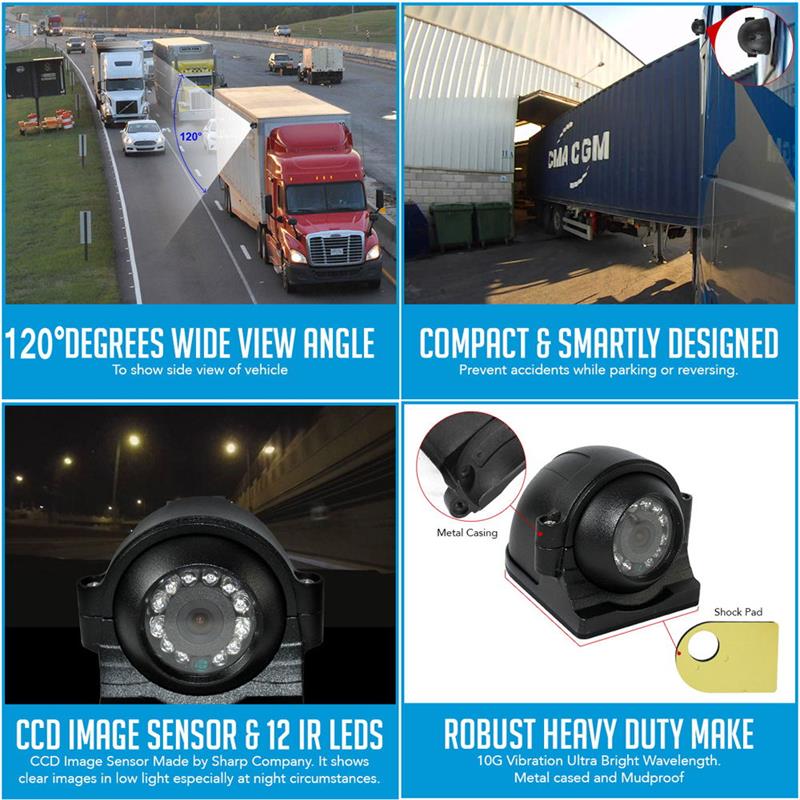 9" Quad Split Monitor Screen DVR Video Recorder +4 Front Side Rear View Camera For Semi Trucks/Commercial Trucks, School Bus/ Pickup trucks and Heavy Duty
Waterproof IR Truck Dash cameras
This truck 4 way camera system kit has 4 IR Dash cameras with AHD CMOS image sensor; it outputs digital signals that improve picture's clarity, color contrasting and sharpness to a better level than CMOS camera. With its 18 / 10 individual Infrared (IR) LED, AHD Dash Camera show clear images in low light conditions especially at night circumstances. This heavy duty Commercial Truck Dash camera is hard metal cased, waterproof and mud proof. All the cameras could provide rearview at all time without heating up.
Semi truck Camera System With DVR recording feature that allows you to record everything outside and around your vehicle. What's good about this feature is that, it supports up to a 128-GB SD card. Meaning, you don't have to worry about not being able to capture and record everything--all the important details of a road incident that is so important to you. Since there is an external memory for extended capacity, you can be sure that all of your recordings are automatically saved for playbacks later on. You can record one camera at a time and you can still view both cameras on the monitor by pressing CH button. Video recording does not support audio.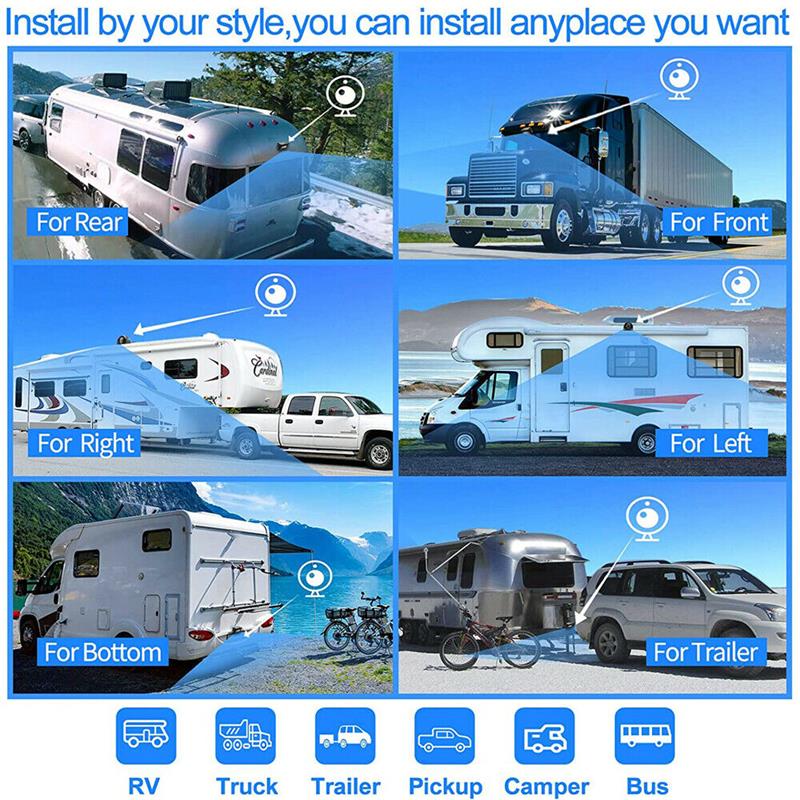 Specifications of Truck Fleet Dashcam For Commercial Vehicles
1,LCD Display : 9.0 inch Full HD ISP 1080P Quad Split Monitor
2,Support Max SD card storage: 256GB(Not included)
3,Camera Resolution: Full HD 1080P AHD 2MP
4,2.0M image AHD sensor with 150 degree view angle
3, Camera Effective Pixels: 1980*1080 pixels
4,Video format: TS
5,Photo format:JPEG
6,Power: DC 9V-36V
7,Waterproof, Hight-light Night Vision, Shockproof, No Interference, No Delay
8,Function Support: DVR, Reversing/Parking Assist
9,Features 1: Anti Vibration,Wide Dynamic Range,Cycle Recording
10,Features 2: G-sensor, Night Vision, Quad Lens, Reversing/Parking Assist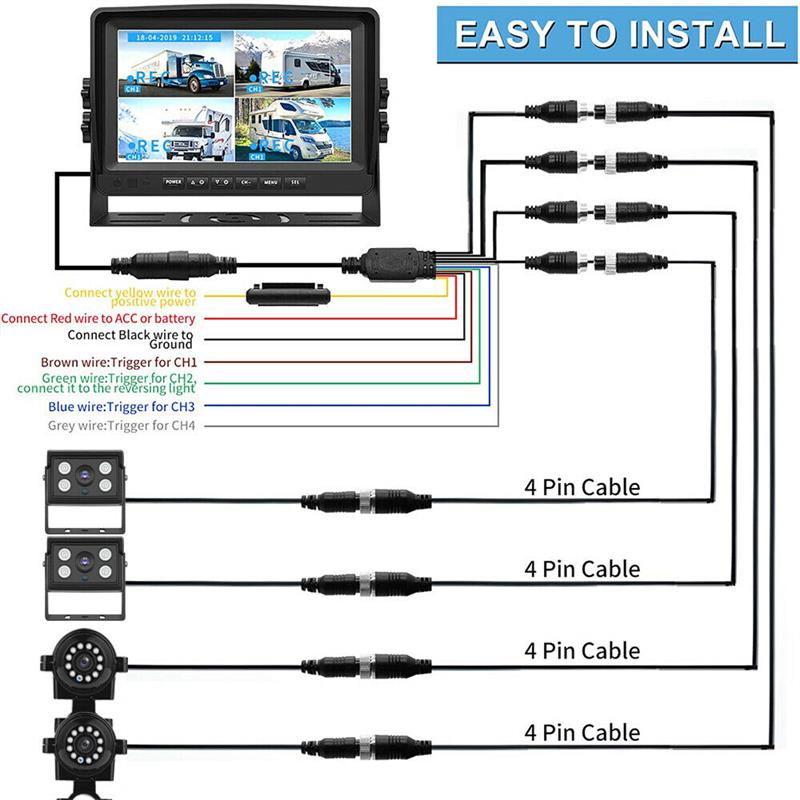 Package Included:
◎1x 9'' DVR Monitor with DVR recorder
◎1x Monitor Dashboard Base
◎2x AHD Front/Backup Camera
◎2x AHD Side View Camera
◎2x 10M 4Pin Extension Cable
◎2x 5M 4Pin Extension Cable
◎1x User Manual
Product Application of commercial truck dash camera system
Connecting 5M(16ft) & 10M(33ft) 4Pin high quality anti interference extension cable for camera
1, This Truck Dvr Camera System Can use and work with Peterbilt Semi Truck,Kenworth Semi Truck, Mack Semi Truck,Weststar International Trucks, Freightliner Semi Truck,Sterling Navistar Commercial Truck, Ford Semi Truck and other heavy Duty Scania Commercial Truck, DAF Commercial Truck, MAN Commercial Truck, Hino Pickups, Benz Semi Truck, Isuzu Commercial Truck, Iveco Lorry, Renault Trucks,TATRA and Volvo Commercial trucks and Semi-trucks
2, 4CH Commercial Truck Dash Cameras System also apply For USA or European Semi trucks, 2021 new Commercial Truck,Tanker truck,Transport Logistics vehicles, Trailer, VAN,Articulated dump truck,Rigid truck, Truck-trailer combination, Longer Heavier Vehicles, Bulk truck, Container- / hooklift truck,Tipper truck, trailers and towed machines, Tipper, Skip Lorry, Sweeper,Hooklift,Quarry Dumper