Product Name: 4K 50mm Industrial C-mount Lens Zero Distortion For ITS Camera
Product advantage:
1, Variable Aperture Lens From Large aperture F2.4 to Smallest F22 (creat good depth of Focus)
Multi-layer coating, with higher transmittance and effective suppression of stray light
2, No/zero distortion, Telephoto 50mm 10MP, 2/3'' Image Format Cmos, 200lp/mm high MTF
3, Applied For 2/3" 10megapixel Industrial C Mount camera and Industrial Security Camera
This 50mm Lenses also compatible with 1 inch ITS Camera too
4, 50mm 10MP Lenses Industrial Widely used in Industrial Quality control cameras, ITS cameras, Industry cameras
for inspection and imaging processing, scientific Research, Industrial robotics, Ruggedized cameras
for security and defense, other industrial applications etc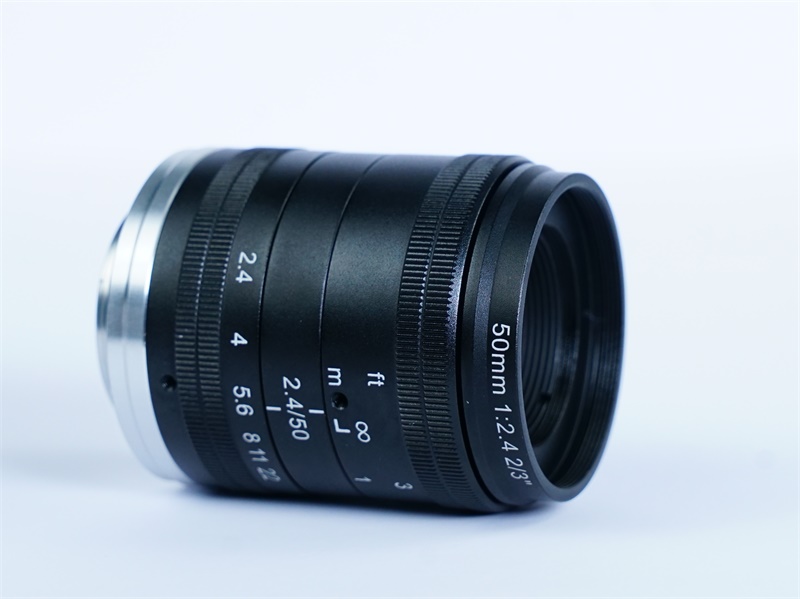 Product technical Specification of 50mm 10MP Industrial Security Lenses
| | |
| --- | --- |
| Product Model | NWA-23-10MP-50mm |
| Image Cmos Sensor Format | 2/3'' |
| Photo Resolution | 10MP |
| Focal Length | 50mm |
| Aperture | f/2.4 ~ f/22 |
| OBFL | 21.4㎜ |
| FOV(D×H×V) Angle of View 2/3''cmos | D12.6°/ H10.0°/ V7.5° |
| FOV(D×H×V) Angle of View 1/1.8''cmos | D10.2°/ H8.28°/ V6.1° |
| FOV(D×H×V) Angle of View 1/2''cmos | D9.2°/ H7.3°/ V5.5° |
| TV Distortion 2/3''cmos | -0.01%@y=5.5mm |
| TV Distortion 1/1.8''cmos | -0.01%@y=4.5mm |
| TV Distortion 1/2''cmos | -0.007%@y=4mm |
| MTF | 200lp/mm(2.5um) |
| Focusing Range MOD (Minimum Object Distance) | 0.25m ~ ∞ |
| Flange Distance | 17.526㎜ |
| Operation Mode- Focus | Manual with Lock |
| Operation Mode –Iris | Manual Variable |
| Operation Mode-zoom | Fixed |
| TTL | 61mm |
| Mount type | C mount |
| Filter Thread | M30.5x0.5 |
| External Dimensions(mm): | ∅34.3*L47.5mm |
| Structure | Full Glasses Lenses+Metal Barrel |
| Working temperature | -10℃~+50℃ |
| Storage Temperature Range | -20℃~+60℃ |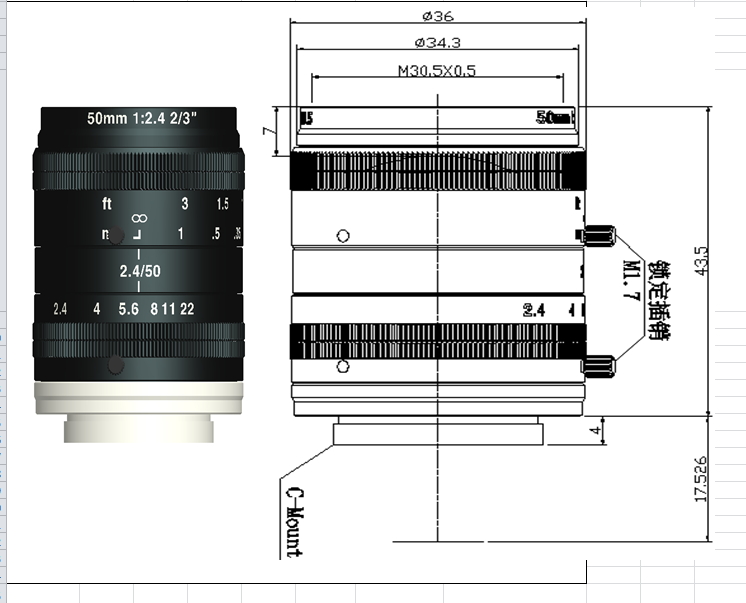 50mm 10MP Lenses for industrial applications
Industrial camera lens applications
Industrial lenses are widely used in industrial machine vision and image processing systems such as industrial identification, industrial inspection, industrial measurement, high-precision measurement, inspection, identification, industrial monitoring, instrumentation, microscopic imaging, machine vision, 3D scanning, biometrics, etc. It is widely used in semiconductor machinery parts, scientific research, image processing, electronics, automotive medical packaging, military manufacturing and other industries
Specific applications are as follows:
Chip, wafer surface detection, one-dimensional code, two-dimensional code recognition; object surface scratches, text and other detection; metal surface, bearing, beverage cans engraved character detection; MARK point positioning; night/day safety equipment; solar panels; Semiconductor; wafer inspection; peripheral monitoring; machine vision; medical applications; biometric technology; aerial surveillance; food sorting. Application areas include surface and continuous logistics inspection, intelligent transportation systems ITS and traffic law enforcement systems, text reading, mail sorting, measurement (2D/3D), medical imaging, biometrics, and aerospace and defense.
About US
we are Chinese professional Industrial Lens, Glass Lens and M12 optical Lens suppliers where have South Korea, Taiwan and Japan Imported Optical Lens Manufacturing Machine and Fully Automated Lens Assembly Machines also Glass Lens Manufacturing Equipment.
Product passed CE, RoHS, REACH Certifications and factory with IATF16949 Approval.Main Lens cover Car camera Lens (Lens Automotive),CCTV Lens, Fisheye Lenses, Zero Distortion Lens, FA Industrial Lens, Machine Vision Lens, Standard M12 camera Lens, Varifocal Lenses etc,of course we provide Lens Shop Online here, Wholesale or retails or Agent and Custom Made Lense
why you can consider work with us?
1, Our Lens Product passed CE,RoHS, REACH, FCC Certificate
2, Mostly Lens have 2 year quality warranty
3, We have more than 10 skilled Optical and Mechnical Engineers service you anytime
include pre-sale, order, samples of course Custom-made Lenses
4, Every Quarter launch a few new Lens
5, With Fully Automated Lens Assembly Machines and 10000 Grade Dust-free workshop
6, Various Kinds of Lens cover Automotive Car Camera Lens, CCTV Security Lens,
Fisheye Lens, Wide Angle Lens, ZOOM Lens, Manual Focus Varifocal Lens, FA Lens,
M5/M6/M7/M8/M9/M12/D14/M16/D16/CS / C Mount etc
7, Our sale team have more than 4 years lens sale experience and know them professionaly, can communicate all problems freely and fastly