Product Name: Chinese Factory outlet 7inch 2 Channels Car Monitor For Truck Vehicles, support CVBS Video Signal too
Product Feature of AHD Monitor For Commercial Vehicles
7 Inch Car AHD DVR Quad Monitor
2 Channel AHD video input, support AHD720P/960P/1080P and CVBS Input
12-segmentation modes, 2 picture or 1 picture adjustable
2 channels independently adjust left-right up-down mirror function
2-way trigger function, With Removable Sunshade design, With Metal U Shape Bracket
Built-in lightning protection device; Monitor with reverse polarity protects;
2-way synchronous online video playback, pause, fast forward, fast backward and other operations
Parking lines adjustment, adjusting according to vehicle width
OSD menu, remote control
Compatible system: NTSC & PAL (automatically)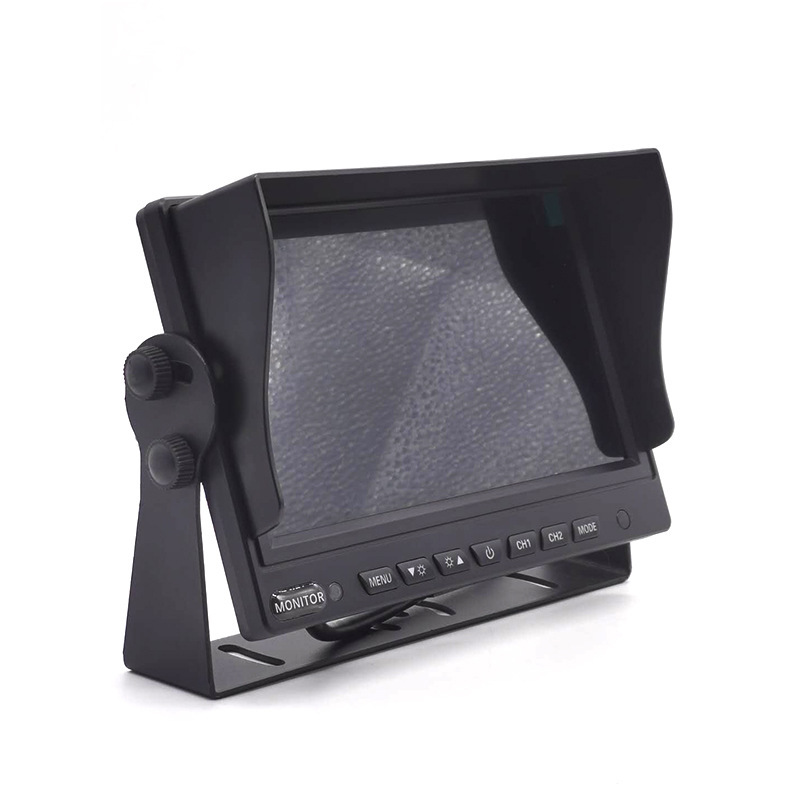 Product Specification of 7 inch AHD Car Monitor
7-inch AHD high-definition display
Screen Ratio: 16:9
Resolution: 1024*R.G.B*600
Backlight brightness: LED, 500cd/㎡
Viewing angle range: up/down—180°, left/right—180°
Two-channel AHD high-definition video input, single image display
Support 720P/960P/1080P (Video compatibility: CVBS /AHD)
Automatically switch to V2 when reversing, with reversing scale line
PAL & NTSC system automatic conversion
Adapt to vehicle 12V-36V power supply, power output DC12V
Appearance color: black rubber oil
Accessories: metal U-shaped bracket, sun visor, power cord, remote control, manual
Fan type / Suction cup / Butterfly bracket / (optional)
4PIN aviation connector/RCA connector (optional)
RCA A/V connector input or 4 PIN connector for special camera (optional)
Body size: 178.5*118.5*23mm(58.5) (705AHD)
Note:
1.The AHD Truck monitor have no cameras, have to connect AHD camera for recording.
2.The monitor support AHD 720P and 1080P cameras, also support CVBS cameras.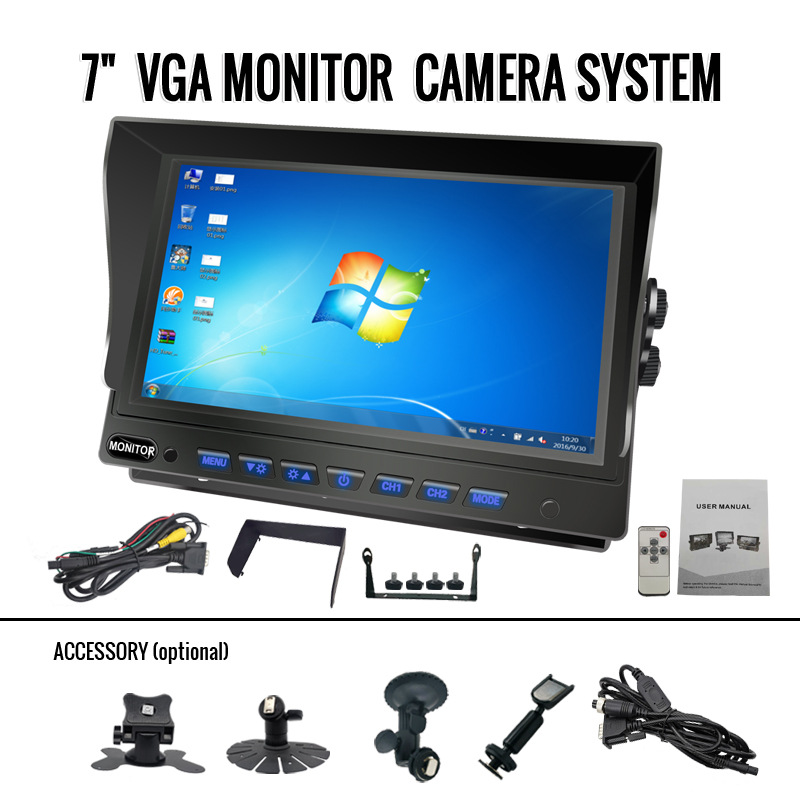 Product application
1, 7 inch AHD Car Monitor are widely used on Vehicle/truck and car and other Transportation - Marine, Air, Heavy Vehicles, Mining, Weigh Stations, Fleet Management, Telematics, In-Car Computing, Public Transit, Cargo etc.
2, AHD Vehicle Monitor can connect and work with car/truck/bus rearview cameras to built up complete Semi Truck Cameras Monitoring Systems
We have also 4 channels 7 inch AHD Car Monitor For Truck/Semi-Truck, School Bus, Heavy Duty