Product name: Four-ways Dash Cameras Recording System Combo DVR Recorder with 10.1 inch Touch Screen Monitor BSD
For all kinds of Commercial Vehicles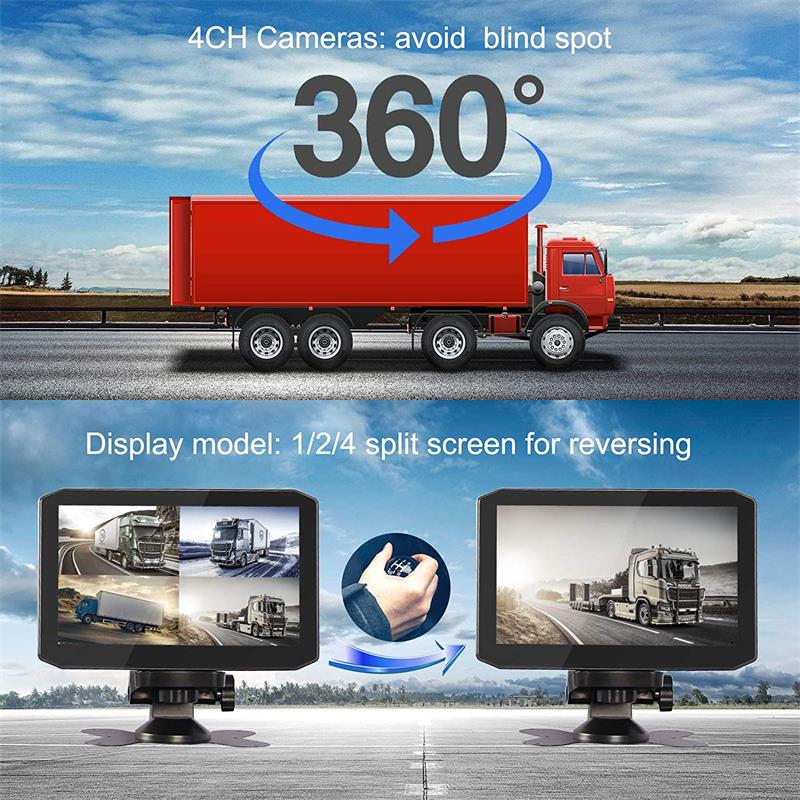 Product Features:
10.1 inch 2.5D touch four recorder (four pictures displayed on the same screen), 4 channels of video input
Allwinner Solution 2.5D tempered glass touch screen Monitor
Standard support PAL/NTSC, input voltage 12-35V, maximum support memory 128G
High-definition high light IPS screen,Display resolution 1024*600
AHD 720P Vehicle camera, Reversing trigger, Good Night Vision full color camera
Three 5m video cables, one 15m video cable with trigger and shield
Truck, bus, school bus monitoring program
MP5 play function optional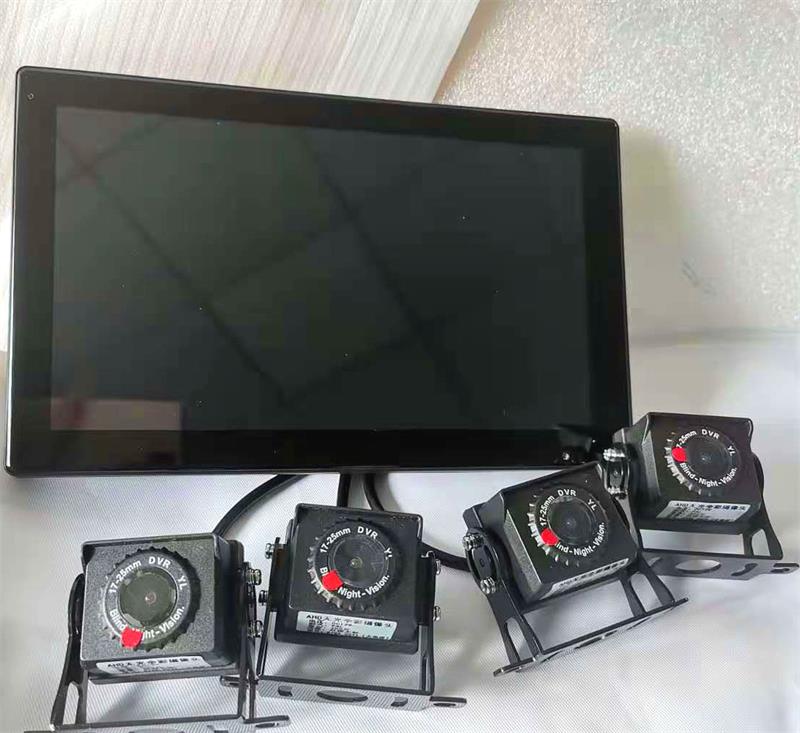 Product Specification:
All in one AHD Vehicle Camera Systems With BSD for semi-truck, trailer, bus, heavy duty, RV, Van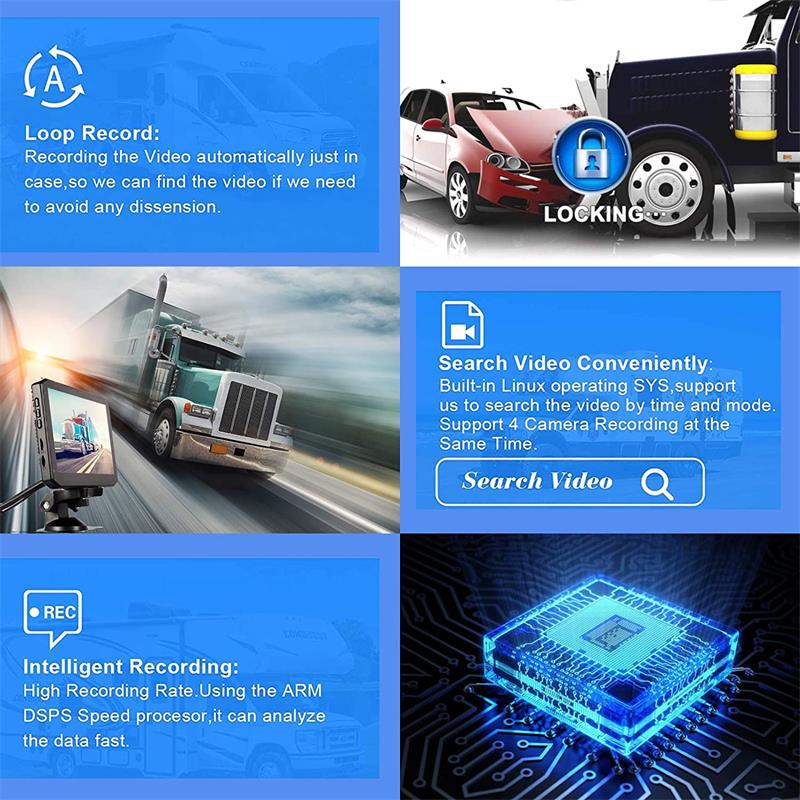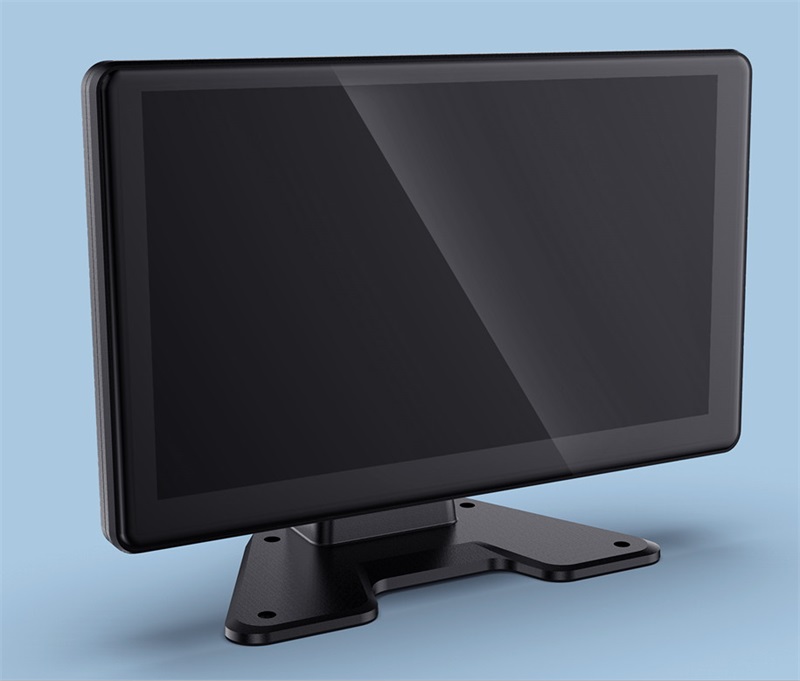 Item name

Technical data

product name

panoramic 4CH Truck Camera Systems

CPU

Allwinner Chipset

Cameras

4pcs AHD 720P camera, full starlight color, Starlight night vision

DVR Recording

Monitor with Built-in DVR module can record 4 ch cameras video at same time

Video pixel

1.3megapixels HD720P

Monitor Display screen size

10.1inch IPS Digital 2.5D touch Screen Monitor

Resolution of Monitor Display

IPS1024*600, Tempered glass material

AHD Monitor

BSD Blind Spot detection

Built-in BSD in the Monitor, the driver can check it also receive the remind at first time

Lens

A+ class 6 glass high resolution wide Angle lens

Language

Chinese (Jane), English

Video Format

TS Streaming Media

video file format

H.265

trigger display

Automatically switches to the corresponding camera view

Video resolution

1280*720@30fps

Color Effect

criterion

Recording in an uninterrupted loop

Seamless loop recording, no loss of seconds

Switch on and off with the car

Support car ignition boot recording flameout shutdown

Year, month, day

support

RAM

DDR3 512M

lens Aperture

F1.6

night vision function

support

memory card

C10 TF card(Support high speed32GB-128GB)

RVC ( reversing control)

Support Reversing trigger

Microphone

support

Voice Control

support

Built-in audio

support

Current frequency

50HZ/60HZ

Power

12-35V

Material of Camera Case

Metal, Colorful Case custom-made/OEM

MP5 play function

Optional add or customize

Cable

Three 5m video cables, one 15m video cable with trigger and shield

Vehicle Camera System

4*AHD Vehicle Cameras, 1*touch Screen Combo DVR with built-in BSD function

Application

Semi Truck, Heavy duty, trailer, farm machinery, bus, SUV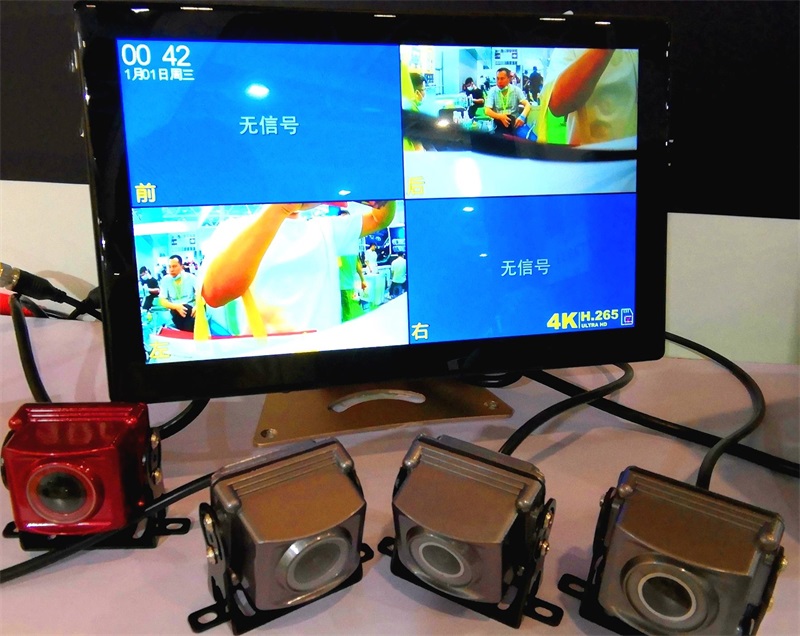 Why need BSD on your truck bus Vehicles?
BSD blind spot detection system (Blind Spot Detection System) is sometimes called blind spot monitoring system BSMS (Blind Spot Monitoring System), or LCDAS Lane Change Decision Aid System (Lane Change Decision Aid System), is a device based on short-range microwave radar detection technology It is used to monitor moving objects (such as cars, motorcycles, bicycles, pedestrians) behind the blind area of the inner and outer rearview mirrors, and detect whether there are cars approaching behind the adjacent lanes, and whether there are cars in the blind spots of the rearview mirrors. When it approaches the vehicle, it will send out sound and light signals in a timely manner according to the degree of danger and urgency to assist the driver in avoiding objects in the blind spot and achieve the purpose of safe merging. The blind spot detection system is a key function in the automatic driving assistance system, covering 360° road conditions around the vehicle body at low speeds. Different car companies have different names for this system, which are mainly divided into blind spot monitoring, blind spot monitoring, and blind spot information systems, but in fact they are all the same system.
Product Application
1, 4CH Truck Camera System With DVR work and apply for Semi trucks, Commercial Truck, Tanker truck, Transport Logistics vehicles, Trailer, VAN,A rticulated dump truck, Rigid truck, Truck-trailer combination, Longer Heavier Vehicles, Bulk truck, Container- / hooklift truck, Tipper truck, trailers and towed machines, Tipper, Skip Lorry, Sweeper, Hooklift, Quarry Dumper
2, Vehicle Camera System With BSD work For Heavy Equipment,Port Harbor Crane, Tower Crane, Container Stacker Crane Equipment, Material Handler, Excavator, Wheel loader,Crusher, Off-highway truck,Bulldozer, Vibratory Soil Compactor,Skid steer loader,Backhoe loader and other construction machinery, Telehandler,Crane Truck
3, Touch Screen DVR Camera System are also widely used in Passenger Bus, School Bus, City Bus, Travel bus, Coach bus, Sightseeing Bus, Airport shuttle, Autobus, Double Decker Bus, Tourist Bus, Tourist Coach.