Product name: AHD Touch Screen 9inch 4CH DVR Camera System For Truck Vehicles
2021 own-design Patent commercial vehicle ford school bus truck transit fleet management with BSD 4ch 9''touch screen monitor dvr camera kit
Product Advantage:
keying features of 4 Channel DVR Camera System For Truck
1, Full HD Video recording
2, 4pcs AHD front view/back view/left view/right view cameras at same time
3, 9 inch touch screen IPS monitor, easy operation
4, support RVC with Reversing Line display, parking monitoring
5, Split screen and 4CH video display at same time
6, built-in Unique RBSD Blind Spot Detection
7, support max 256GB Micro SD card local video storage, video playback
8, F1.6 starlight night vision wide angle lens IP69 waterproof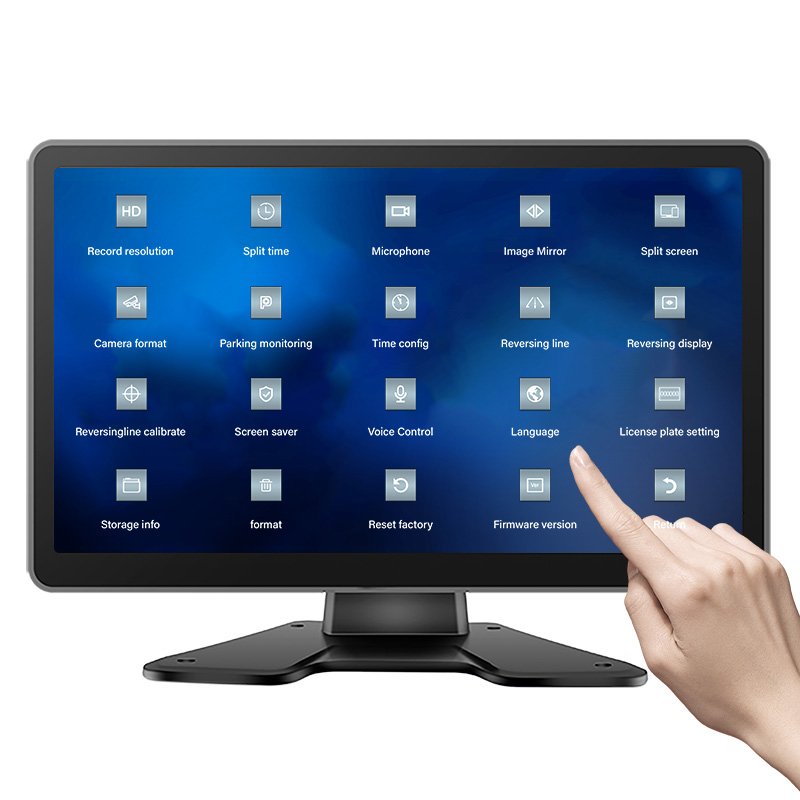 Complete 4CH DVR Camera System with BSD as following:
9 inch IPS Vehicle Monitor display with Touch screen
4pcs AHD Vehicle cameras, front view, back view, left side view and right side view
Built-in BSD alert in Car monitor
Holder and connecting cable for monitor and car cameras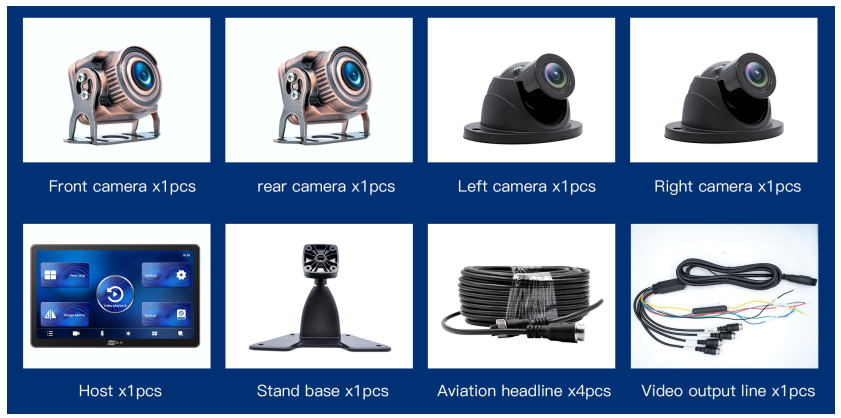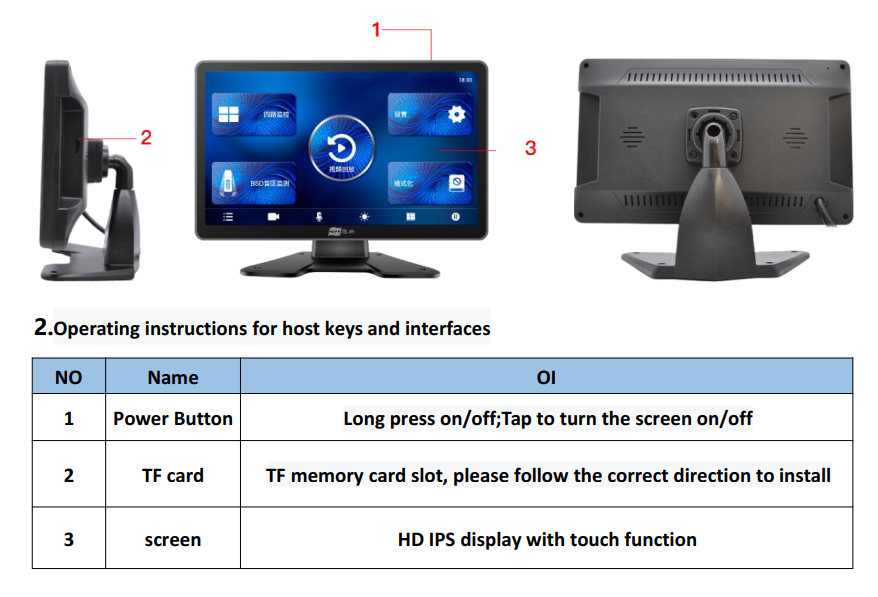 Heavy duty Semi truck best Security CCTV DVR camera system with BSD ADAS and 4CH Panoramic
Video surveillance also 1080P video local storage by Micro SD card up to 256GB
Product Specification ofCombo Dvr 4 Cameras For Vehicle
| | | | | |
| --- | --- | --- | --- | --- |
| product name | All in one 4CH Vehicle DVR Camera system kit with BSD | | Video output | 4 channel Four-way panoramic monitoring Truck DVR Camera System, Vehicle Combo DVR |
| CPU | Double | | RAM | DDR3 512M |
| Feature | HD camera, full starlight color | | lens Aperture | F1.6 |
| Video pixel | 2megapixels | | night vision function | support |
| screen size | 9inch IPS monitor display | | memory card | C10 TF card(Support high speed32GB-256GB) |
| Lens | A+ class 6 glass high resolution wide Angle lens | | RVC(reverse control) | support |
| Language | Chinese (Jane), English | | MIC | support |
| Video Format | TS Streaming Media | | · Voice Control | support |
| video file format | H.264 | | Built-in audio | support |
| trigger display | Automatically switches to the corresponding camera view | | Shrink the video | support |
| Video resolution | 1920*1080 25fps | | Current frequency | 50HZ/60HZ |
| Color Effect | criterion | | remote control | no |
| Recording in an uninterrupted loop | Seamless loop recording, no loss of seconds | | Power | 9-36V |
| Switch on and off with the car | Support car ignition boot recording flameout shutdown | | Year, month, day | support |
| Touch screen operation | support | | Lateral blind area warning BSD | support Display and warning sounds |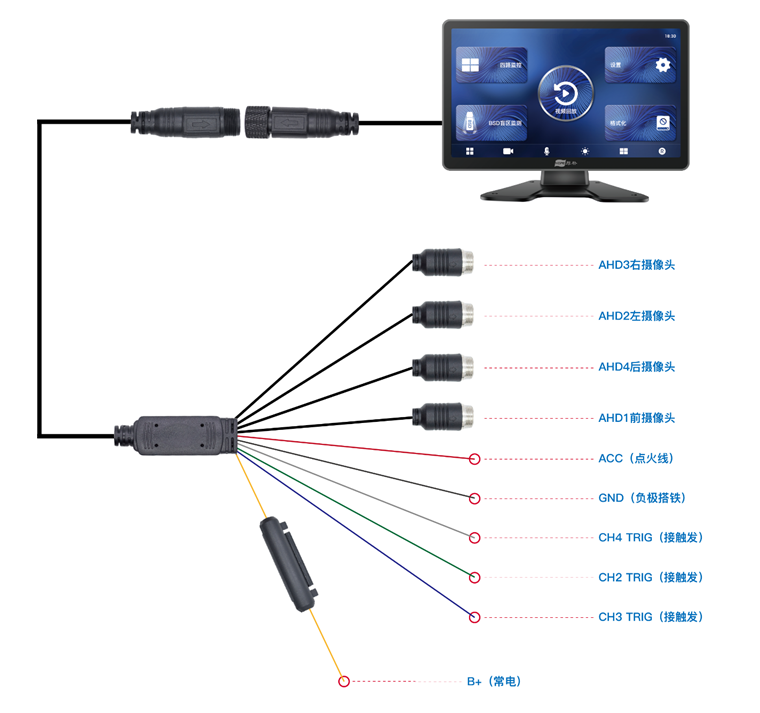 Why Commercial Vehicle Bus and Trucks need BSD system?
At present, the blind spot detection system BSD (Blind Spot Detection) is one of the ADAS functions with a relatively high deployment rate on the market. It mainly detects the blind area of the rearview mirror through two millimeter wave radars equipped at the rear of the vehicle, and warns the driver when other road users are detected in the blind area to assist driving or changing lanes.
BSD blind spot detection system (Blind Spot Detection System) is sometimes called blind spot monitoring system BSMS (Blind Spot Monitoring System), or LCDAS Lane Change Decision Aid System (Lane Change Decision Aid System), is a device based on short-range microwave radar detection technology It is used to monitor moving objects (such as cars, motorcycles, bicycles, pedestrians) behind the blind area of the inner and outer rearview mirrors, and detect whether there are cars approaching behind the adjacent lanes, and whether there are cars in the blind spots of the rearview mirrors. When it approaches the vehicle, it will send out sound and light signals in a timely manner according to the degree of danger and urgency to assist the driver in avoiding objects in the blind spot and achieve the purpose of safe merging. The blind spot detection system is a key function in the automatic driving assistance system, covering 360° road conditions around the vehicle body at low speeds. Different car companies have different names for this system, which are mainly divided into blind spot monitoring, blind spot monitoring, and blind spot information systems, but in fact they are all the same system.
How do I check my blind spot system in Combo DVR Monitor Display ?
just touch the monitor and find "BSD" and operate as following
Using the rear camera matched by our company, the machine supports lane change reminder function in the left and right blind areas. When a car is detected approaching from the side, the camera in the corresponding position will appear red box and sound reminder!Please enter the RBSD calibration page before using this function. For calibration of RBSD, this function can only use the rear camera matched by our company. Replace the camera at will affect the accuracy of some RBSD functions!!
1) Park in the middle of the lane line
2) Actual height data of the camera after adjustment
3) Drag the crosshair of the picture so that the very far point is aligned with the center of the picture and the horizon is about one third of the position above.
4) Save and exit
Product application
1, commercial vehicle security during driving, 360 School bus surveillance system
2, Trucks, trucks, buses, forklifts, harvesters, cash trucks, fire trucks, passenger cars, mine trucks, crane trucks, terminal forklifts, construction trucks, garbage trucks, tank trucks, concrete trucks, trailers, school buses, buses Car etc. 9inch 2 in 1 camera DVR Systems Ideal for HGV Trucks, Tractors, Harvesters, Farm Equipment, Construction Vehicles, Industrial Equipment, heavy duty truck vehicle monitoring
3, our Vehicle DVR 4ch Touch Screen Monitor for commercial vehicles are widely used in: public transportation, passenger transportation, school buses, logistics vehicles, hazardous chemicals vehicles, mechanical engineering vehicles, rentals, law enforcement patrols, trains, ships and other industries.
4, Automotive around surround view camera monitoring system for Semi truck and trailer
5.portable vehicle DVR camera sytem with monitor for Commercial Truck,Tanker truck,Transport Logistics vehicles, Trailer, VAN,Articulated dump truck,Rigid truck, Truck-trailer combination, Longer Heavier Vehicles, Bulk truck, Container- / hooklift truck,Tipper truck,