Product name: Chinese Manufacturer of 9inch Vehicle Monitor System with 4pcs Vehicle Cameras
Product Features:
1, Four-channel video input can be applied to the connection of DVD, rear view, front view, and side view cameras. Can realize automatic switching back view and automatic wake-up function;
2, Automatic reversing switch
Screen mode switching: 1-2-3-4, you can switch to any of the 4 video signal channels to display at will; it can also display two pictures at the same time, or display 3 pictures at the same time, or display four pictures at the same time . Used for panoramic parking or security monitoring, bus monitoring.
Power-on state: automatically switch to the screen displayed by the camera when reversing, and automatically switch back to the previously played screen after reversing;
Shutdown state: automatically turn on when reversing and display the scene after the car, and automatically shut down after reversing;
3, Card-type full-function remote control, OSD full English menu;
4, Beautiful appearance, stable performance, clear image, vivid color and simple operation.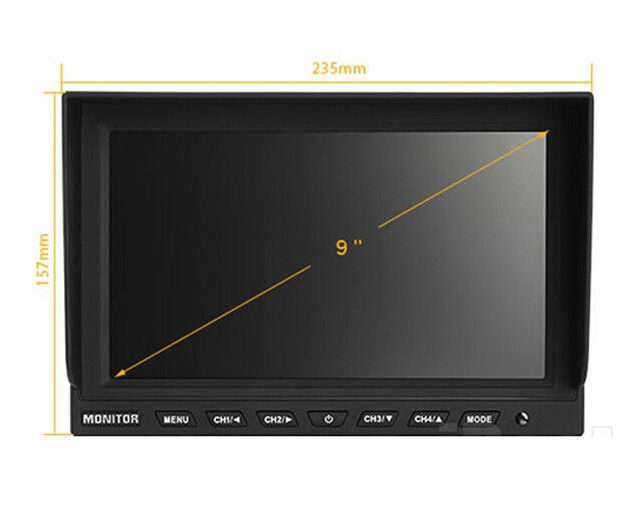 Product Specification of 4ch Vehicle Monitor
9 inch quad split car monitor with 4 video imput for bus and truck
| | |
| --- | --- |
| Item name | 9inch 4channels Vehicle Monitor |
| Screen Ratio | 16:9 |
| Back Light Luminance | LED, 350cd/M2 |
| Resolution | 800xRGBx480 |
| Compatible Video system | NTSC & PAL (automatically) |
| OSD control | Brightness, Contrast, Saturation, Volume, TCON, Language (English, Simplified Chinese), Reversing delay, Parking Guide Line, Wifi Channel setup |
| Viewing angle | Hor. L(70) R(70) Ver. UP(50) DOWN(70) |
| Image reversion | UP/Down and Left/Right |
| Power requirement | 12-24V DC |
| Power consumption | 5W |
| Storage temperature | -30~80 |
| Working temperature | -20~75 |
| Video | Display mode can be switchedby remote control |
| Video Picture | 1ch/2ch/3ch/4ch video available |
| Key color | Water plating silver(light), Blue Screen if No Signal |
| Dustproof & Waterproof level | IP68 |
| Number of Trigger and display | 4 triggers |
| AV Inputs | 4 way video input,1 way audio input |
| Accessories | Remote controller, Power supply cable , User manual, Bracket |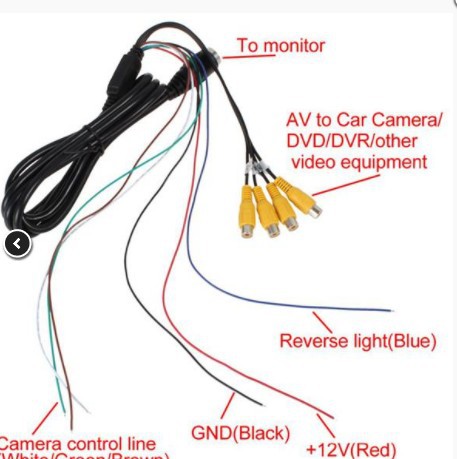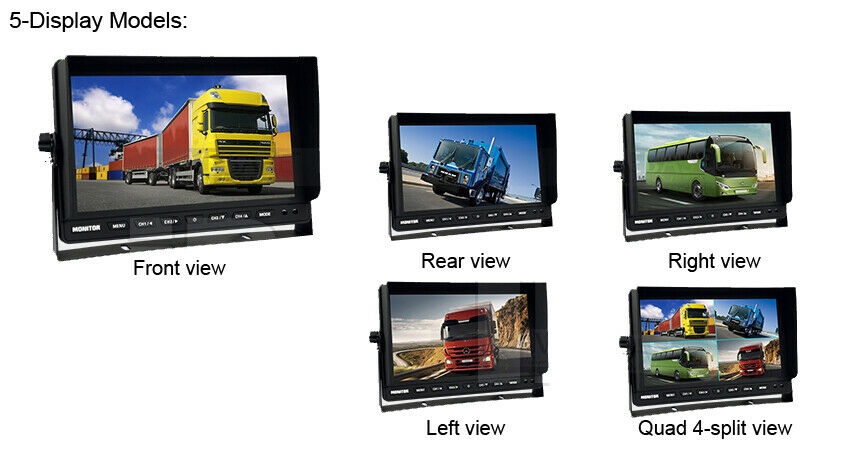 When this 9inch 4 channels vehicle monitor work and connect with 4 pcs vehicle cameras via some cable and mount, which built up one complete Vehicle Monitor System as following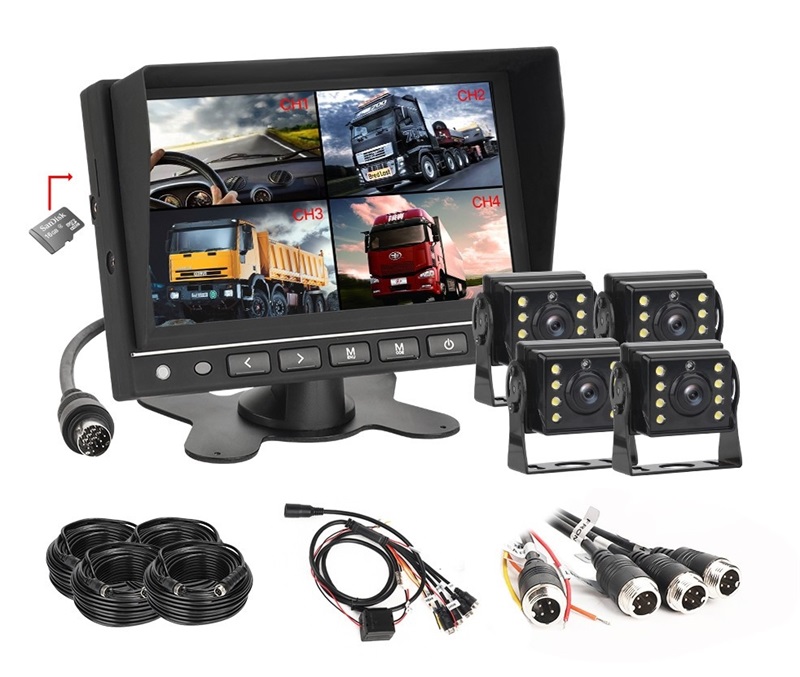 About us

Vehviscam Manufacture limited is one professional Vehicle Security Camera, Vehicle Monitor Camera Systems and 4.3inch/5inch/7inch/9inch/10.1inch Car Vehicle Monitors manufacturer and suppliers in Shenzhen, China. Currently we produce VGA, 800*480, 1024*600, AHD720P Vehicle Monitor with 1channesl, 2channels, 4channels and 8ch video output to meet various market demand from our customers worldwide. Please view our Car/truck/bus/vehicle monitors online carefully or tell or show us what you need if you do not find your interesting models