Product Name: China 2.4GHz Front and Rear Digital Wireless Backup Camera System with DVR video recording function from Vehviscam Manufacture Limited our-own design &RD and Manufacture
9V-30V Truck Digital Wireless Backup Rearview Camera with IR Night Vision Waterproof + 7" TFT LCD Monitor Parking Assistance System, built up Combo DVR Backup Camera System For Truck / Van / Caravan / Trailers / Camper/motorhome/Semi-Truck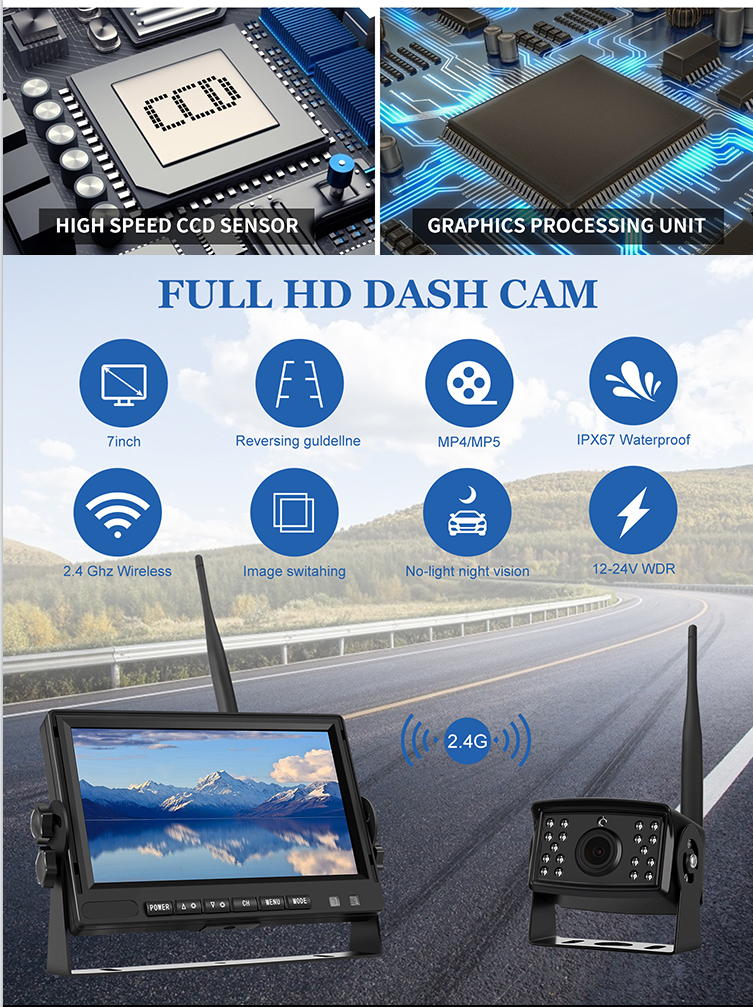 Product Features:
(1)2.4GHz Wireless Backup Camera System, Refined facture and Moderate size, suitable for truck, trailer, farmer car, Campers, Vans
(2)Digital Wireless receiver and transmitter: 9V to 30V Wide Voltage, Frequency 2470MHZ, More stable wireless signal, transmit distance up to 20 to 40 meter (according to using actual environment)
(3)The monitor support 2 Channel Video Input, PAL or NTSC Optional, and can be roof mounted or dash mounted, the Image can be rotated horizontally and vertically for mirror or normal viewing by button
(4)Eliminates the need to run a cable the length of the vehicle, just connect the transmitter at the camera end and the receiver at the monitor end
(5)The transmitter also includes a handy pass through for the power so you can connect it inline with your camera
(6)Hard Metal Cased Camera , Waterproof and Mud proof, it can be used for a long time, with 18 individual Infrared image clearly at night, 140 degree horizontal wide view angle, 120 degree vertical view angle.
(7)Easy to install, included all need parts, offering detail installation instruction and technique supporting
(8) it have DVR Recording Function, can make video recording and local video storage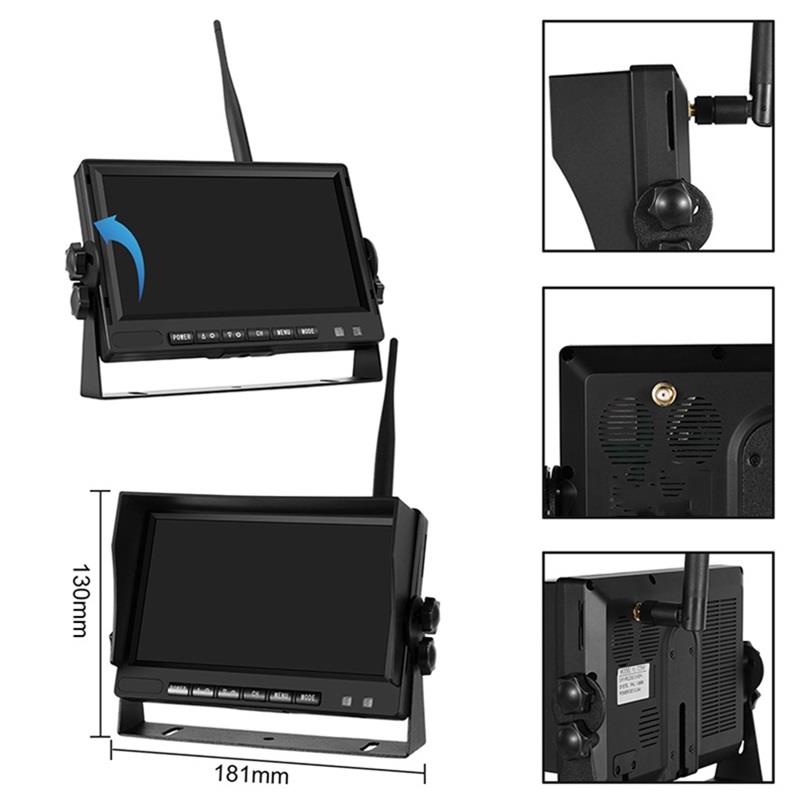 Product Specification
Item Name

parameter

Product name

Good Night Vision wireless rearview camera

Built-in wireless transmitter

Waterproof grade

IP67

Resolution

420 TV lines

Lens Angle

170 degree

Minimum illumination

0.3LUX, high sense of low light

Video Output

RCA interfaces, 1.0Vp-p, 75ohm

Sensor

OV7950 // CMOS (available with reference line)

S/N Ratio

More than 48db

Working voltage

DC12V (+/-10%)

Case Material

ABS plastic casing
Item Name

parameter

Product name

2.4GHz Digital Wireless Monitor with DVR Recording Function

Built-in wireless receiver

Screen Size

7inch TFT IPS Digital Monitor

Display Mode

16:9 / 4:3

Video System

PAL / NTSC dual system automatically switches

Pixel

1024 x 600

Operating voltage

12V-36V wide voltage

Rated power

6W

2AV input reversing

automatic display

Contrast

350:1

Working temperature

-20℃ to 60℃

Storage temperature

-20℃ to 85℃
Note: our unique Digital Wireless Backup Camera System With DVR can work with 1pcs or 2pcs wireless vehicle camera at same time, you can choose equip one or two ( front and rear video),Currently 2 channels Kit can record front and rear video at same time together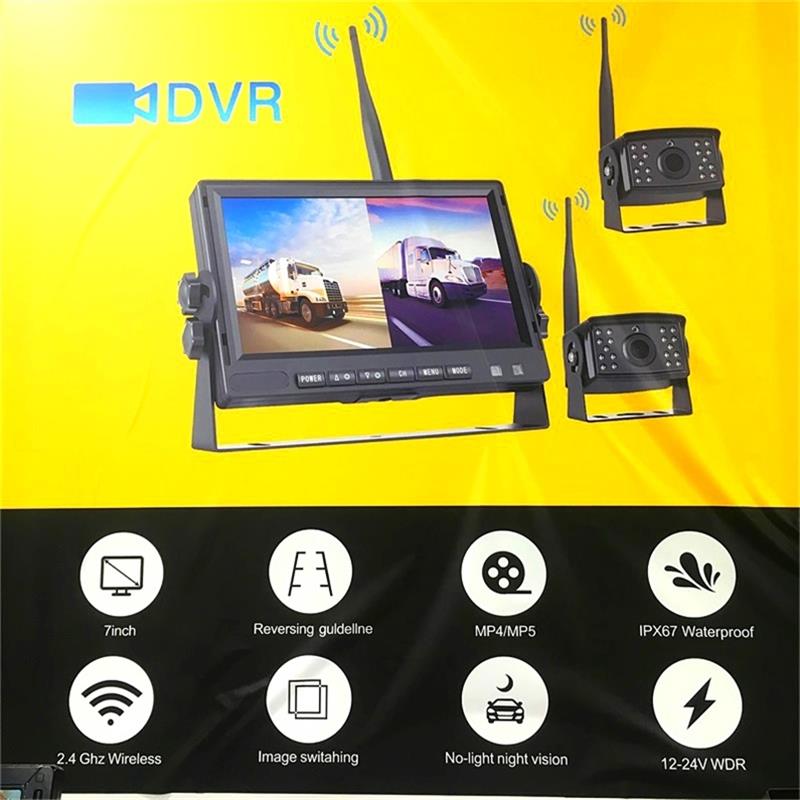 Accessories
• 1x 7" TFT LCD Monitor
• 2x Car Rear View Camera
• 1x Remote Controller
• 1x Holder
• 1x Frame
• 1x Manual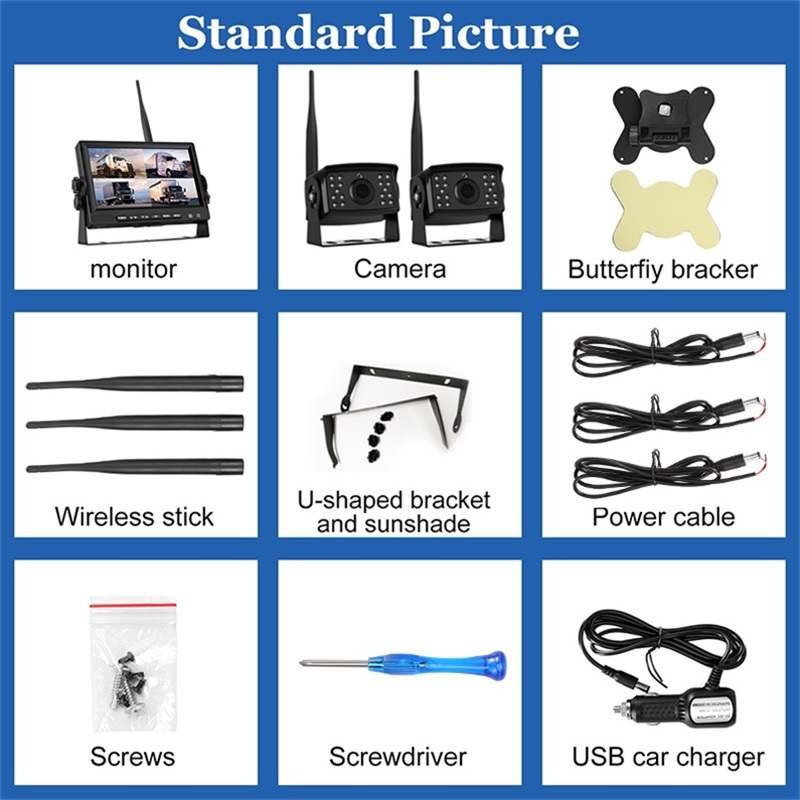 Questions and Answers
1, Do wireless backup cameras work well?
Some wireless rearview cameras offer a digital signal, which is more reliable but still subject to issues from time to time. ... When the backup camera sends image data to the monitor wirelessly, there's always a chance for interference, lag, or a loss of overall picture quality depending on the signal strength.
2, Which is better wired or wireless backup camera?
RV backup camera, one important decision is whether to get a wireless or wired camera system. Wired camera systems may cost more time and money upfront, but they offer better quality images and typically last longer than wireless systems.
3, What is Wireless Backup Camera System?
Complete Wireless Backup Camera System are include wireless backup Camera (1-4pcs), wireless vehicle monitor ( 5inch or 7inch or 9inch), related mounts/bracket/sunshade to install and support monitor, wireless stick, antennas, power Cable or USB Charger to power Camera and Monitors etc
4, What is the unique advantage of our Wireless Backup Camera System With DVR?
Currently mostly wireless rearview Camera system just display front/rear video on vehicle monitor but it could not record the video, it is one big shortcoming during driving.
Our 2 in 1 combo DVR kit have built-it DVR recording module and work with 2.4GHz Digital Signal, which can record everything and all video easily but do not pay complicated and expensive installment cost, as it is wireless and 100% DIY operation!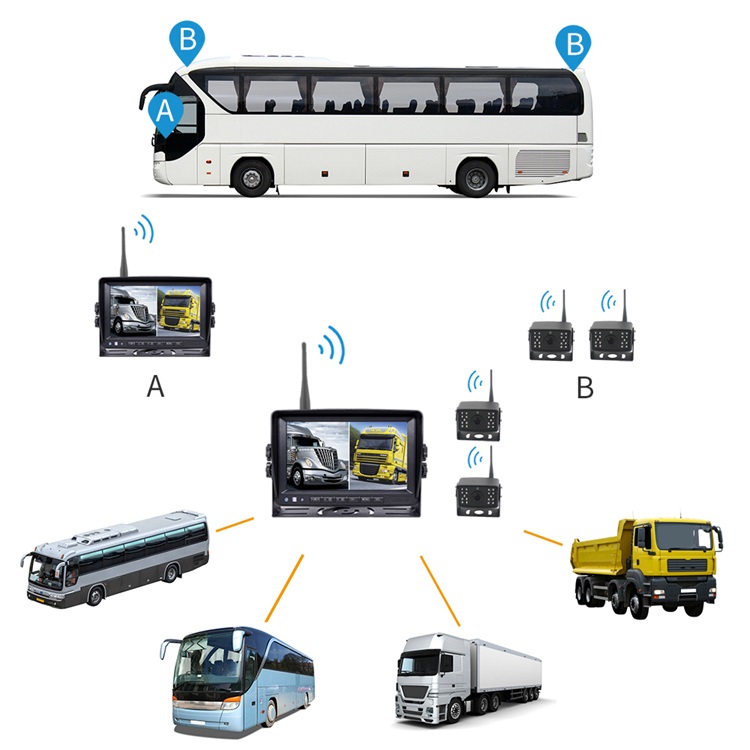 Product Application:
1, Wireless Rearview Camera System With DVR can work for Farm Tractor,Agricultural Machinery,Heavy Equipment、Maritime Ship、Trucks、Fork-lifts , Security Escort,Airport Vehicles,Electric forklift, Sightseeing Cars, Golf , Airport Baggage Van, Horse Trailer ,Crane,RV,Commercial Truck, Bus, Delivery van Vehicle,Port Harbor Crane, Tower Crane, Container Stacker Crane Equipment,HVG、Municipal Vehicle,Tube Train, Tube Transporter, Metro,Subway, Park Train,Bullet Train,Passenger Bus, School Bus, City Bus, Travel bus, Coach bus, Tourist bus,Traffic patrol cars
2, Truck Wireless Backup Camera System Can Work For Semi trucks, Commercial Truck,Tanker truck,Transport Logistics vehicles, Trailer, VAN,Articulated dump truck,Rigid truck, Truck-trailer combination, Longer Heavier Vehicles, Bulk truck, Container- / hooklift truck,Tipper truck, trailers and towed machines, Tipper, Skip Lorry, Sweeper,Hooklift,Quarry Dumper
3. Digital Wireless Backup Camera System can work For RV,motorhome,Recreational Vehicle,caravan,reisemobil,Campervan,camping car, Trailer,Camper, camping van, Wagon,