Product Name: 35mm 10 Megapixel Machine Vision Lens For Factory Automation
Product advantage:
1, Variable Aperture LensFromLarge aperture F1.6 to Smallest F22 (creat good depth of Field)
2, -0.16% Super Low Distortion C-Mount Lens, High-performance industrial-use lenses
3, Applied For 2/3" 10megapixel camera,½'' 4K Industry Camera, 1/1.8'' FA Camera
This 35mm Lenses also compatible with 1 inch Camera too
4, Widely used in Industrial Quality control cameras, Machine vision cameras, Industry cameras for inspection and imaging processing, scientific Research, Industrial robotics, Ruggedized cameras for security and defense, FA Lens For Industrial Photography etc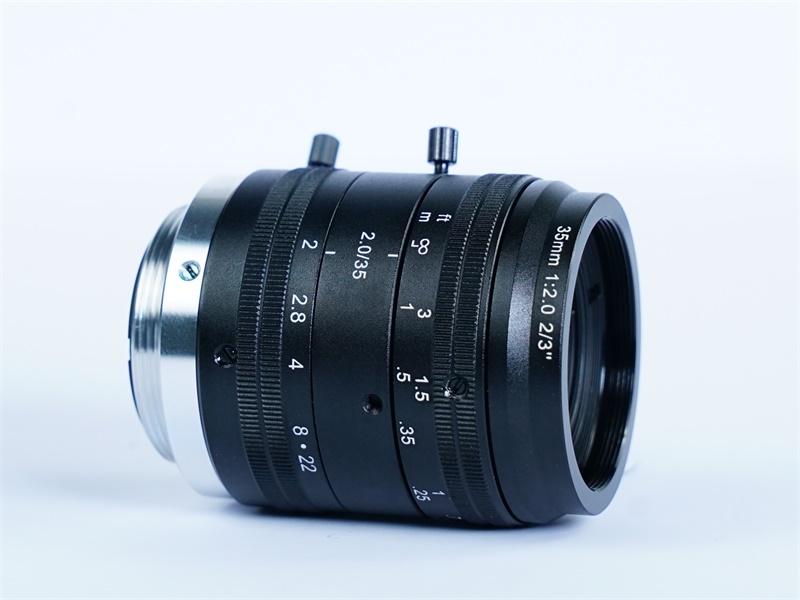 Product technical Specification of 35mm Industrial Lenses
| | |
| --- | --- |
| Product Model | NWA-23-10MP-35mm |
| Image Cmos Sensor Format | 2/3'' |
| Photo Resolution | 10MP |
| Focal Length | 35mm |
| Aperture | f/2.0 ~ f/22 |
| OBFL | 13㎜ |
| FOV(D×H×V) Angle of View 2/3''cmos | D17.9°/ H14.3°/ V10.9° |
| FOV(D×H×V) Angle of View 1/1.8''cmos | D14.6°/ H11.8°/ V8.7° |
| FOV(D×H×V) Angle of View 1/2''cmos | D13.1°/ H10.6°/ V7.87° |
| TV Distortion 2/3''cmos | -0.16%@y=5.5mm |
| TV Distortion 1/1.8''cmos | -0.11%@y=4.5mm |
| TV Distortion 1/2''cmos | -0.06%@y=4mm |
| MTF | 200lp/mm(2.5um) |
| Focusing Range MOD (Minimum Object Distance) | 0.18m ~ ∞ |
| Flange Distance | 17.526㎜ |
| Operation Mode- Focus | Manual with Lock |
| Operation Mode –Iris | Manual Variable |
| Operation Mode-zoom | Fixed |
| TTL | 55.95mm |
| Mount type | C mount |
| Filter Thread | M25.5x0.5 |
| External Dimensions(mm): | ∅30*L43.4mm |
| Structure | Full Glasses Lenses+Metal Barrel |
| Working temperature | -10℃~+50℃ |
| Storage Temperature Range | -20℃~+60℃ |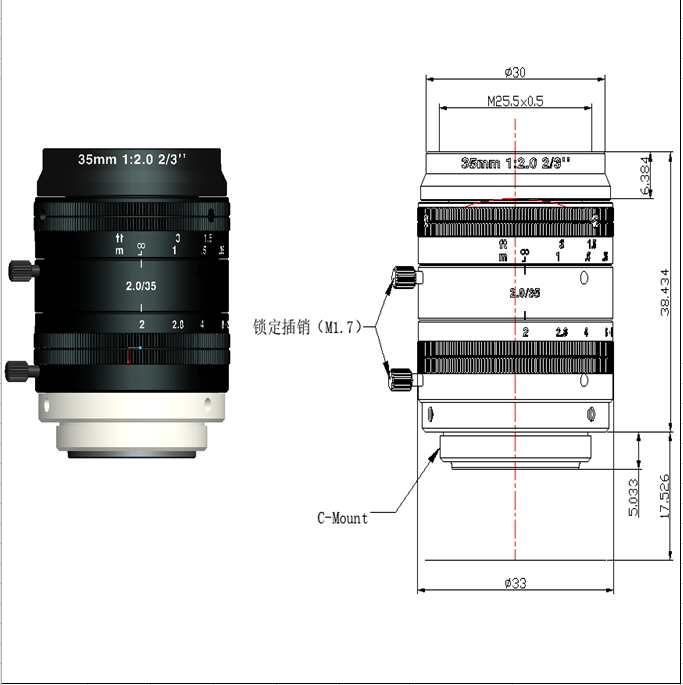 Product Application of 35mm Machine Vision Lens
Widely multi-purpose use of industrial Camera lenses
Industrial lenses are widely used in object positioning detection with extremely high reflectivity, such as: scratch detection on metal, glass, film, wafer and other surfaces, chip and silicon wafer damage detection, MARK point positioning, glass cutting machine, glue dispenser , SMT inspection, plate placement machine and other industrial precision alignment, positioning, parts confirmation, size measurement, industrial microscopy and other CCD visual alignment, measuring devices and other fields.fixed-focus Industrial lenses are mainly used in the case of small changes in the field of view, similar to industrial assembly lines, fixed object scanning, traffic bayonet, etc. are widely used. Industrial lens can monitor and eliminate NG products on the production line; label digital high-speed contrast detection; detect the shape defects and dimensions of electronic components in the high-speed assembly line, detect the circuit board circuit and socket position, detect the amount of injection liquid, and print the batch number on the drug packaging , Production date and shelf life text inspection; food filling line online inspection, etc.
1. Mechanical parts measurement
2. Measurement of plastic parts
3. Measurement of glass and medicinal containers
4. Electronic component measurement
5. Particle measurement, measurement of high-precision color printing, semiconductor photomask measurement,
filter control, blood analysis and cell number calculation
6. Visual positioning of mechanical equipment, semiconductor inspection, wafer, wafer inspection, dispensing positioning,
liquid crystal display inspection
CUSTOM-MADE INDUSTRIAL CAMERA LENS / FA LENSES
Goobuy provides a selection of various custom options for new and existing Industrial Camera Lenses. We also welcome any
unique or personalized requests, new idea, new technical drawing, New Design, development, prototyping, and mass production
are offered at reasonable competitive prices and fast R&D time of course reliable quality.
Customization options include, but not limited to:
Specific cmos sensor requirements, Focal Length ( fixed or Manual Zoom Varifocal)
Auto DC or Fixed Iris Aperture, different angles of view FOV, infrared solutions, High/low temperature rated, MTF resolutions, Distortion, TTL, OBFL, Mount type, Focusing type, MOD, Lens Dimension, Lenses Structure etc.
Welcome to send us your technical drawing or request or share more details with us to
discuss then evluate it for Customization