Product Name: Wireless Rearview Camera System with 5 Inch Monitor License Plate Reverse Camera for RV,SUVs,Minivans, Caravan, Parking Camera Crystal Clear Image IP69 Waterproof Super Night Vision
5 Inch Monitor 1080P Digital Wireless Backup Camera System Hitch RearView Camera for Motorhome, Travek Trailer,Campers,Vans,Small RVs,Cars Front View Camera Guide Lines Settings IP69K Waterproof
Product Feature:
(1) Stable Digital Wireless Signal, it uses digital wireless signal, so you can view your rear blind spot without interference and flicker. The wireless range (33ft) is wide enough to make it work with a range of everyday vehicles.
(2) Easy & Quick Installation Once you connect the display to the supply power in the cigarette lighter, or wire it to the ignition, the camera to the reverse light or other light and you are good to go. High recommeded under 21ft(not recommed for pickup truck) that offers clear graphics at an affordable price.
(3) Waterproof & Durable Camera IP69 Waterproof Level Reversing cam:Highly Waterproof backup camera with monitor kits.The camera is made by high-purity resin,with international standard IP 69 waterproof property.So you can use it daringly whatever it's rainy/snowy/hot.
(4) Camera Bracket Hidden 1080P Rear View/Front View Camera can be hitch rear view camera,the bracket can be hidden behind the license plate. IP69 waterproof with 150 degree viewing angle . HD color provides clearest view for you
(5) Adjustable Reverse Camera You can choose the guideline and adjust the angle of the camera up or down to suit your vehicle. As the same guideline and angle are not ideal for both a low-to-the-ground sedan and a taller SUV.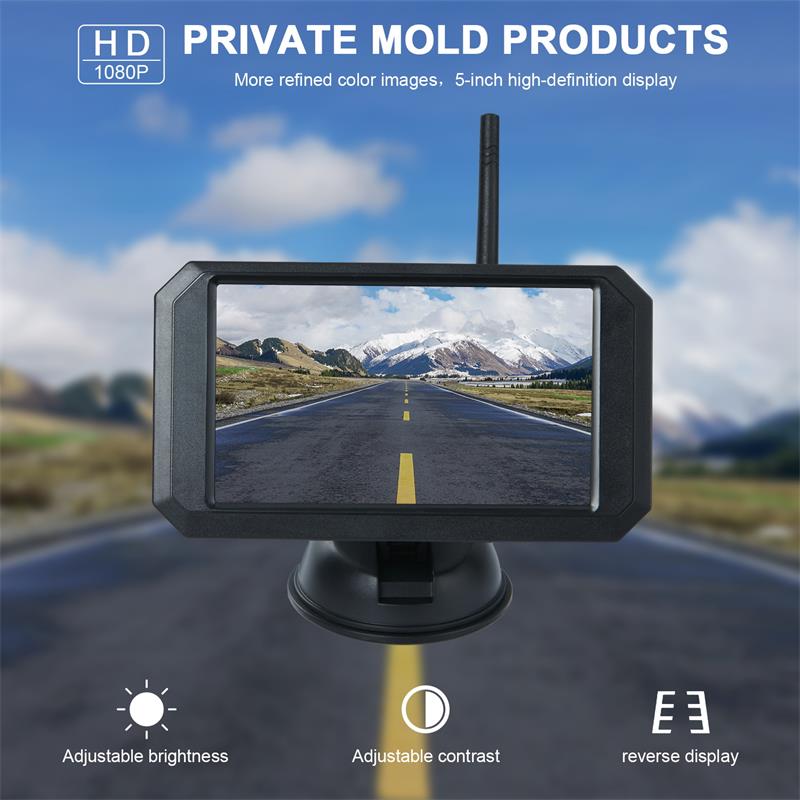 Product Specification
5 Inch Wireless Backup Camera System with Digital Signal, Waterproof Rear View Camera with 5″ TFT-LCD Monitor, Ideal for Sedans, Pickup Truck, SUV, Minivans, RV, Motorhome, Caravan, Camper, The Fifth Wheel
2.4Ghz digital signal wireless system;
•TV system: PAL/NTSC ;
•Rated Voltage: DC 9V-28V
•Resolution:1920*1080PX 1080P;
•Monitor built-in digital transmitter
•View Angle: 150°[H] 170°[D]
•Rear view camera bulit-in digital transmitter.
•Power: 21db
•Clear night vision and anti-fog;
•Waterproof Rating: IP68
•Open transmission distance:100M in open place
30m wireless valding working distance, no interference. DIY installation
•Operating temperature: -20℃~+70℃;
•Storage temperature: -30℃~+80℃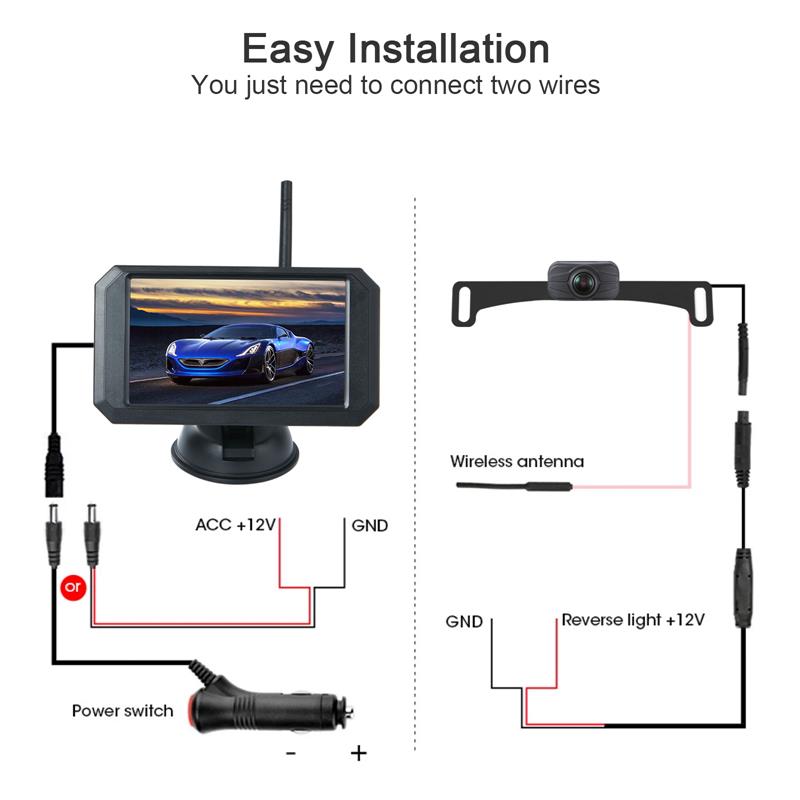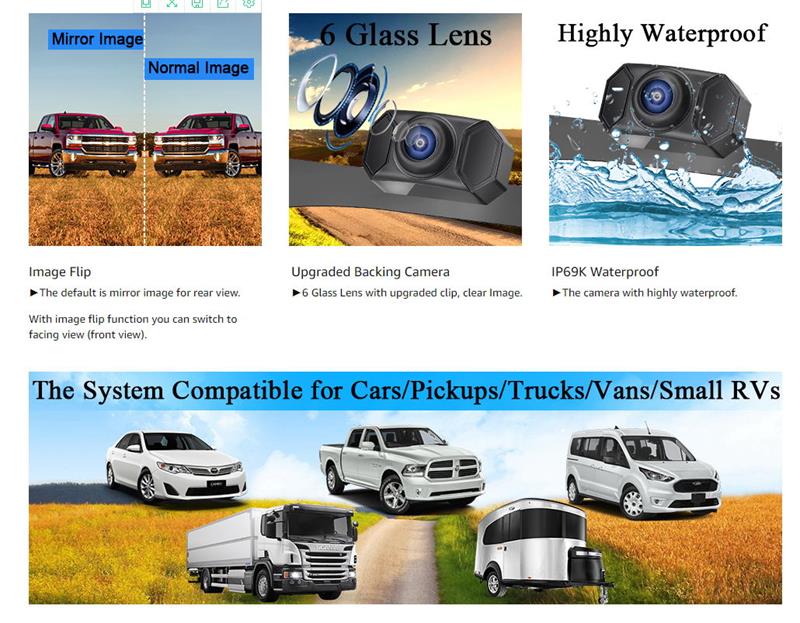 5 inches Wireless Vehicle Monitor
Display Screen: 5 inches 16:9
Operating Voltage: 12V/24V DC
Power: ≤8.64W
Operating Frequency: 2370-2510 Mhz
Standard: 2510Mhz
Transmission Distance: 15 meters
Compression Format: MPEG 4 video
Transmit Frequency: 18dBm
Transmission Speed: 12 Mbps
FHSS: Frequency Hopping Spread Spectrum
Hopping Rate: 1200/S
Resolution: 800RGB x480 dots
TV System: PAL / NTSC
Operating Temperature: -10~65℃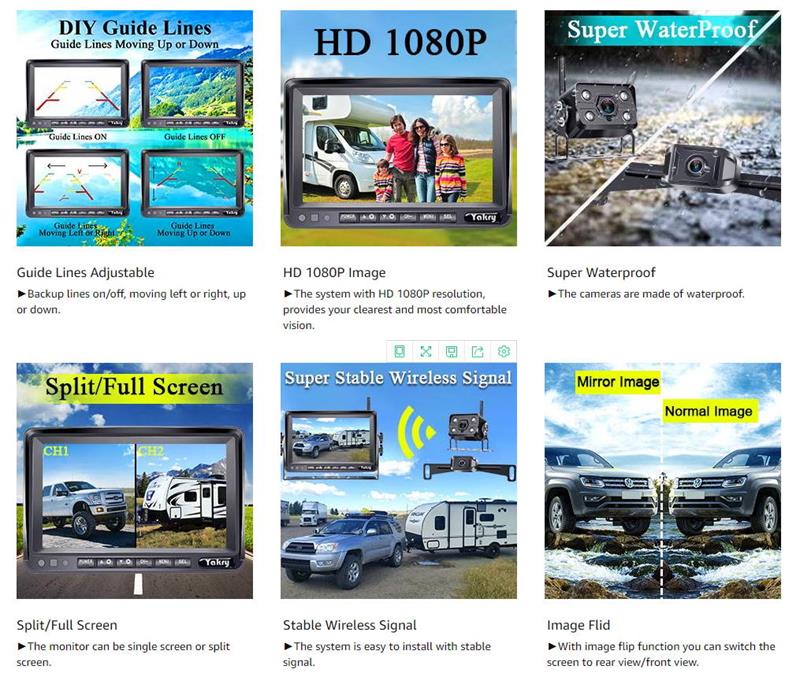 Package Contents:
1 x Wireless 7" Car Monitor
1 x Wireless Backup Camera
2 x Antennas
1 x Holder
2 x Power Cable
1 x Remote Controller
1 x Instructions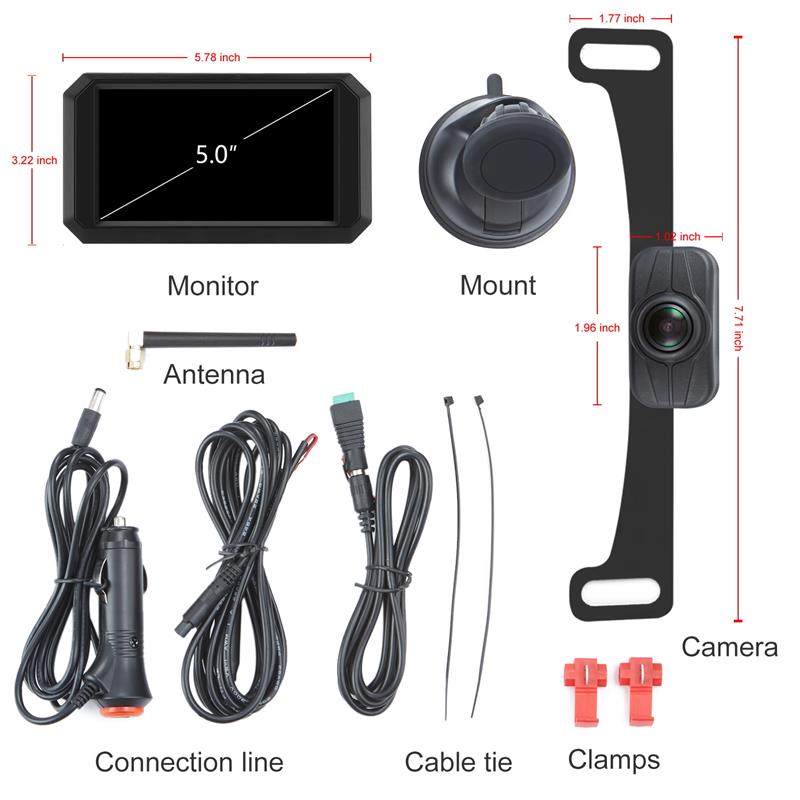 Product Application
1, 5inch Wireless Backup Camera system apply For RV,motorhome,Recreational Vehicle,caravan,reisemobil,Campervan,camping car, Trailer,Camper, camping van, Wagon,
2, 2.4G Digital Wireless Rearview Camera work For Farm Tractor,Wheel Loader, Dumper, towed harvesters, combine harvesters, Agricultural Machinery,Forestry, Crop Sprayer, Cotton Picker