Product Name: 9" Ahd 1080P Farm Implement Attachments DVR Monitor Rearview Camera System for Farm Tractor and Agricultural Equipment Vision Security
360 degree Around /Surround View Safety Vision Camera System with DVR Recorder and 9 inch Quad Split Display Screen For Farmers and Rancher
Since the advent of the Agricultural vehicle/tractor and Farm Machinery, The Farmers have always been in search of a way to see behind the ride and its side, in the area which mirrors alone cannot reach, also called the Blind Zone. Now Agricultural backup camera system has become a secure, affordable way of eliminating the blind zone while significantly increasing rear view safety. By providing the user with a real-time, crystal clear view from the back, Front/forward, Left View, Right Side View of any AG Equipment or Farm Tractor, a rear view back up camera allows The Farmer to reverse with confidence!
360 Bird View cameras System make Forwarding View, Working, driving and backing up a safer experience for every Farmer.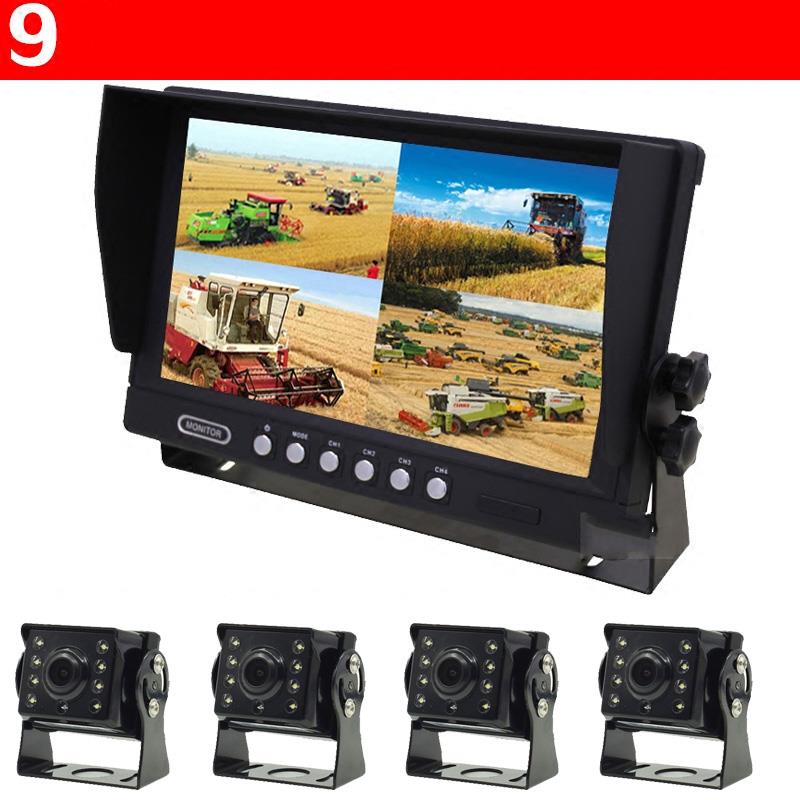 Product Feature:
●9 inch Full HD 1080P IPS Quad Split Monitor
●This DVR support 4 camera recording. It also provides instant video playback.
●The video recorded in TF card. Support Max TF card storage 256GB(not included). Automatically loop-cycle recording
●Quad Infrared LED light night vision AHD camera simultaneously recording.
●When vehicle in Reversing Gear, this car DVR will automatically switch to the back-up camera image view with parking line.
●Connecting 10M(33ft) 4Pin anti interference extension cable for camera(if you need longer or shorter cable, please contact us).
●.Built-in DVR Quad / Split Screen Digital Monitor System. Quad Monitor Camera System is Able to Show 4 Camera Views at one Time.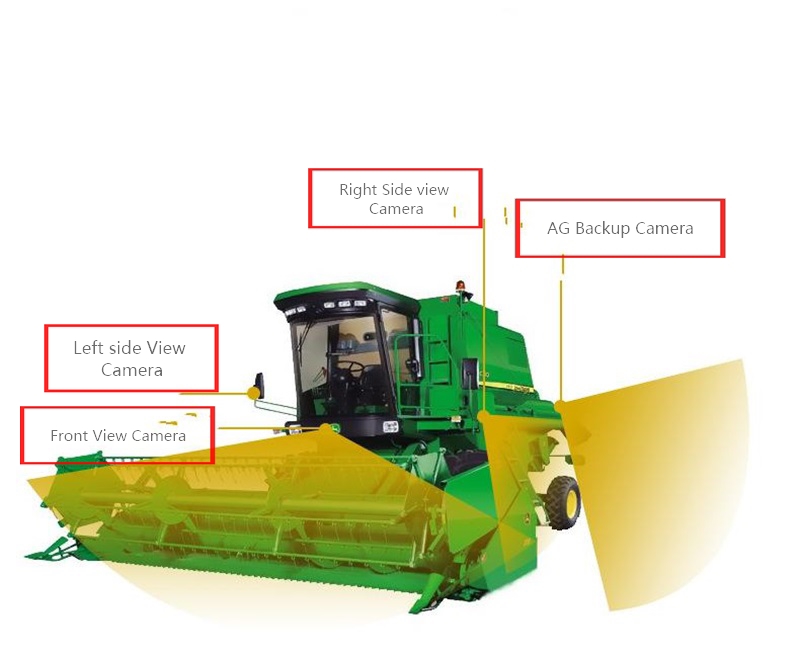 Product Specification of Agricultural Machinery Safety Vision Camera System
Agricultural Reversing cameras/ AG Cameras
Power Voltage:DC 9V-26V
Image Sensor: AHD 2M 1080P
Scanning System: PAL/NTSC
Effective Pixels: 2M
Resolution: 1080P
Video Output: CVBS 1.0VP.P.75ohm
AGC: AutoS/N Ratio: Better than 48db
Electronic Shutter: 1/60~1/100.000 Seconds
Operation Temperature: -40°C~80°C RH95% MAX/-10°C~50°C RH95% MAX
Storage Temperature: -40°C~105°C RH95% MAX/-20°C~60°C RH95% MAX
Waterproof Grade: IP 68
9" TFT LCD Farm Machinery Monitor

Item Name

12V~24V AG Tractor DVR Monitor with Recorder

Screen size

9 inch

Aspect ratio

16:9

Luminance

350cd/m

Resolution

1024*R.N.B*600

Audio & Video

4 ways video inputs, 1 way audio output, 4 ways trigger

System

PAL&NTSC automatically

Video DVR recording

Support 4channels AHD 1080P/720P Video recording

Language

Russian/English/French/Simplified Chinese/Traditional Chinese/Germany.etc.

OSD menu

Display menu, Brightness, color, contrast adjustable

Video compression format

H.264, Audio: AAC

Built-in speaker

Yes

Bracket accessories

U type bracket(stand bracket optional)

Sunshade

Removable

Mode

Full/2/3/4 image adjustable

Set up

Mirror for individual image, can set reverse delay
This Agricultural Vehicle Security Systems has DVR recording function that allows farmer to record everything outside and around his Agricultural vehicles. What's good about this feature is that, it supports up to a 256-GB SD card. Meaning, you don't have to worry about not being able to capture and record everything--all the important details of a road incident that is so important to you. Since there is an external memory for extended capacity, you can be sure that all of your recordings are automatically saved for playbacks later on. You can record one camera at a time and you can still view both cameras on the monitor by pressing CH button. Video recording does not support audio.
BACKUP CAMERA AND CCTV SAFETY SOLUTIONS FOR AGRICULTURAL VEHICLES
When selecting suitable farm camera system for agriculture vehicles or Farm Tractor, you always need to keep a few key things in mind. Each piece of farm equipment will have its own unique needs when it comes to safety, particularly if you run an operation with a huge variety of different agricultural equipment under operation at the same time, so please always tell us what you need exactly and something about your Farm Machinery, then we can recommend mostly available for you
Remote Control:
1.Power: Switch For Power Supply
2.Video: Ch1,Ch2,Ch3 and Ch4 Selecting
3.Menu: Menu(Brightness,colors,contrast)Botton
4.Vol+: Increasa Botton
5.Vol-: Reduces Botton
6.Mode: Selecting results of display
9" Split Monitor DVR Recorder AHD Rear View Backup Camera for Seeders, Harvesters, Pruners, Foragers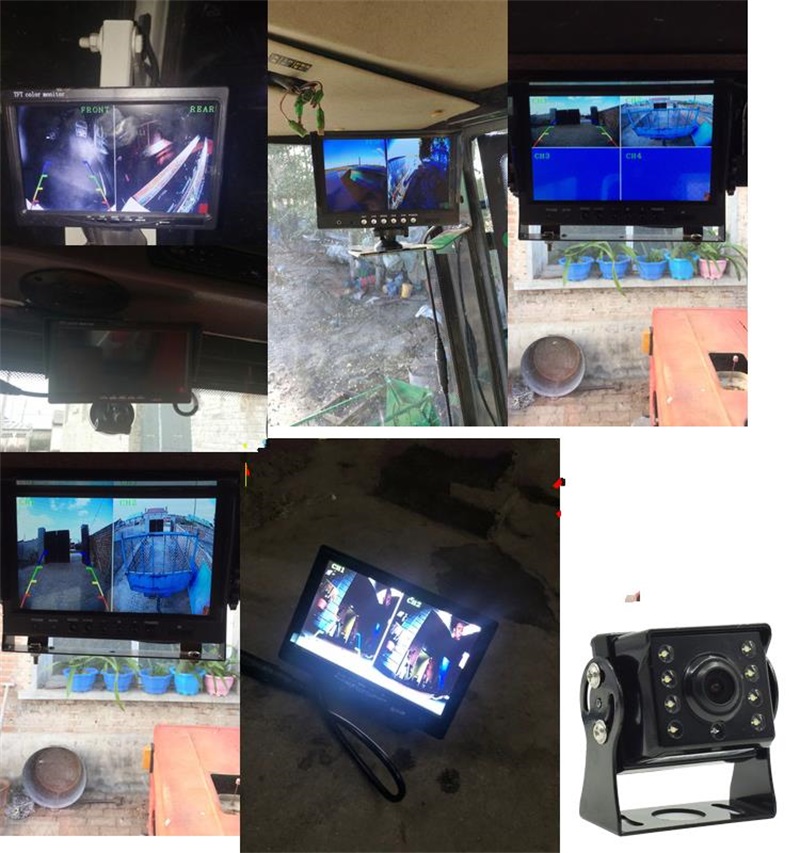 Package includes:
1 x 9'' TFT LCD Quad DVR Monitor
1 x Detachabe Sunshade Cover
1 x Power Harness with 4ch 4PIN connectors-Max support 4 cameras connection
1 x Remote Control-No Battery Inside
1 x Mount Bracket
1 x User Manual
4 x 4-Pin Cables(5-15M)
4 x AHD 2M 1080P Side Rear View Cameras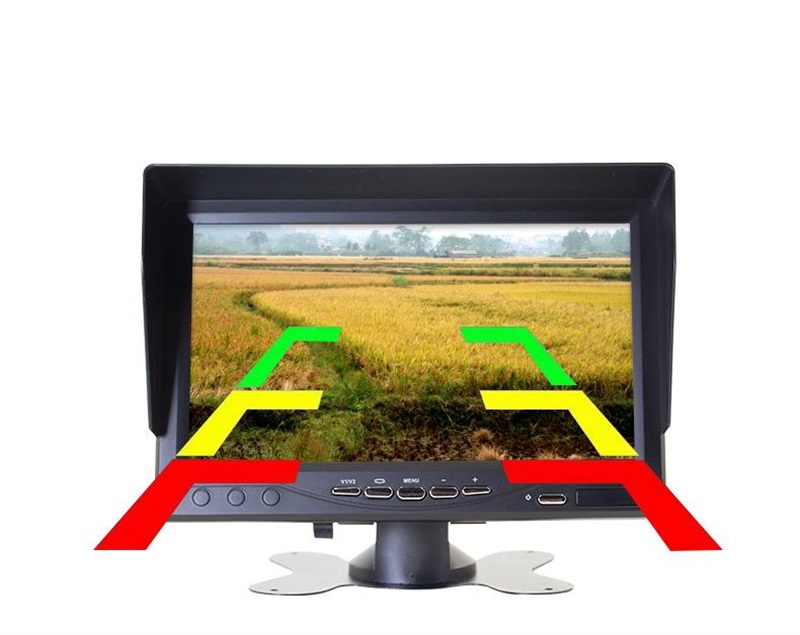 Widely Product Application
1, Agricultural Equipment Camera System can work and equip on Farm Agriculture Machinery, Combine Harvest, Cultivator, Plough, Trailer, Tractors Truck, Barn include famous brands for example John Deere, Ford / New Holland, Case - International, Massey Ferguson, Kubota, Allis Chalmers, White / Oliver / Mpl Moline, Deutz, Yanmar, Gleaner, Steiger, Versatile, and more
2, We apply our DVR Camera Systems on safe driving to every industry that needs it, including: school buses, boats, transit buses, commercial trucks, home/RV, emergency, and industrial, Farm Machinery and Agricultural Equipment
3, The Camera System with DVR Recorder will fit virtually any truck or trailer, emergency vehicle or commercial vehicle, including school buses, house boats, coach buses, motor homes and RV