Product Name: 4 Channels Mobile DVR For Semi-Trucks Support HD Recording 3G 4G GPS WiFi Optional 1080P 4CH SD MDVR With 4G GPS Wifi
China manufacturer GPS WIFI 3G 4G optional HD 720P 4 Cameras 4channel Vehicle Mobile DVR MDVR kit with Free Software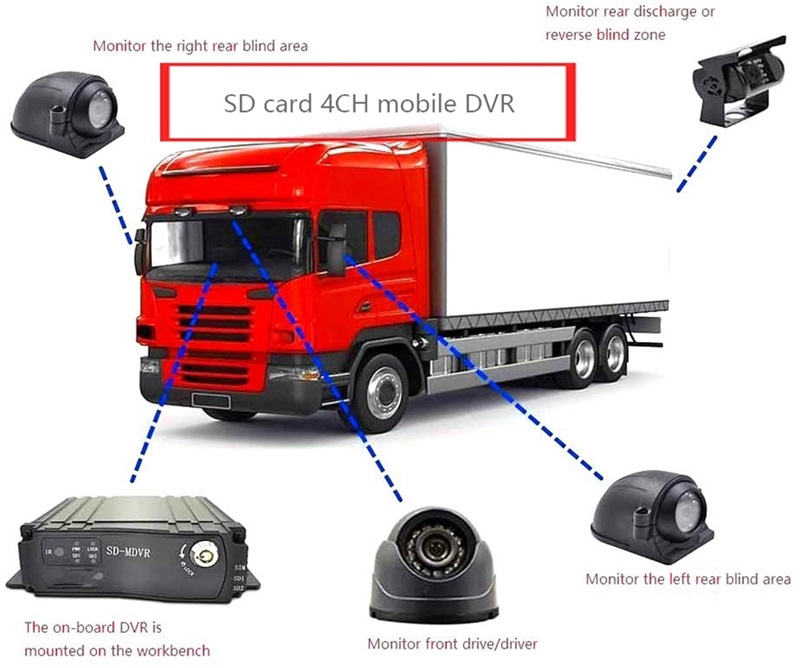 Product Feature:
1, HIS Solution,H.264 Compression Mode, Many stream recording,4CH Video+2CH Audio Input, Compatible with 4CH 720P/960P Mega Pixels Analog High Definition Camera input /2CH AHD High Definition + 2CH Standard Definition mixed input / 4CH Analog Standard Definition Camera input.
2, Real-time HD Video Recording, 720P/D1/HD1/CIF for Optional,Adjustable Frame Rate Quality.
3, Professional Power Design for all kinds of Vehicles, 8-36V DC; Wide Voltage, Over-load,Over-voltage,Short Circuit,Reverse Protection,Suitable for all kinds of vehicles.
4, Support DC 12V/2.5Amp output, it can offer power for camera, mini monitor and some peripheral device.
5, HDD + SD card Data record storage (maximum support 2TB 2.5'' hard disk and 128GB SD card.) (SD MDVR Max support is 128GB+ 128GB ) It can be completely resist car Vibration, Dust and others cause data corruption;
6, Watchdog Abnormal will trigger Restart Protection Function . It can better protect Device and Video.
7, Exclusive pre-allocate DVR Special File System Technology, Solving repeatedly wipe cause file fragmentation, and ensure the integrity of the data.
8, By accidents power-off protection function. Unique UPS Technology ensures the integrality of record when power failure occurs, even can for 10-15s.
9, 8CH alarm inputs (Doors, lights, steering, braking, reversing and all types can be configured), Can support kinds of response linkages.
10, Auto Recording, Time Recording, Alarming Recording Modes for Different Request.
11, Display vehicle traffic status, Vehicle number ,Route, Super-low speed vehicle Information, Convenient management.
12, All Aviation plugs, Super stable, High Anti-shock, Easy installation Plug in and out.
13, Superior network function, can configure menu through IE, support mobile SMS to configure parameters and obtain device information.
14, Support Video& Audio monitoring,2-way Intercom, PTZ control, manually Alarm, Overspeed,
Geo Fence etc through remote control platform
15, Flame out Time-lapse Video Recording Function ( Highest support long delay time 24 hours.)
16, 2CH alarm output, Support the linkage acousto-optic alarm, cut off fuel oil/power,etc .
17, Support Local Auto-photo when alarm input, device pictures preview function;
18, Support GPS/BD,G-sensor Modules Extension.
19, Unique WINDOWS 8 interface, Easily Smart GUI Interface, Fluent system interface is intuitive and perfect.
20, Support SD card Remote Software Upgrade/OTA remote upgrade automatically, partition backup technology upgrade don't crash.
21, Can be batch functional customization according to customer's requirements;
22, Dimension and Weight Dimension : 112(W) x36(H) x138(D) mm
4G WIFI GPS 4CH Channel AHD Mobile DVR For Vehicle
Hard Disk Video Recorder for Truck RV Security Monitor System VGA/HDMI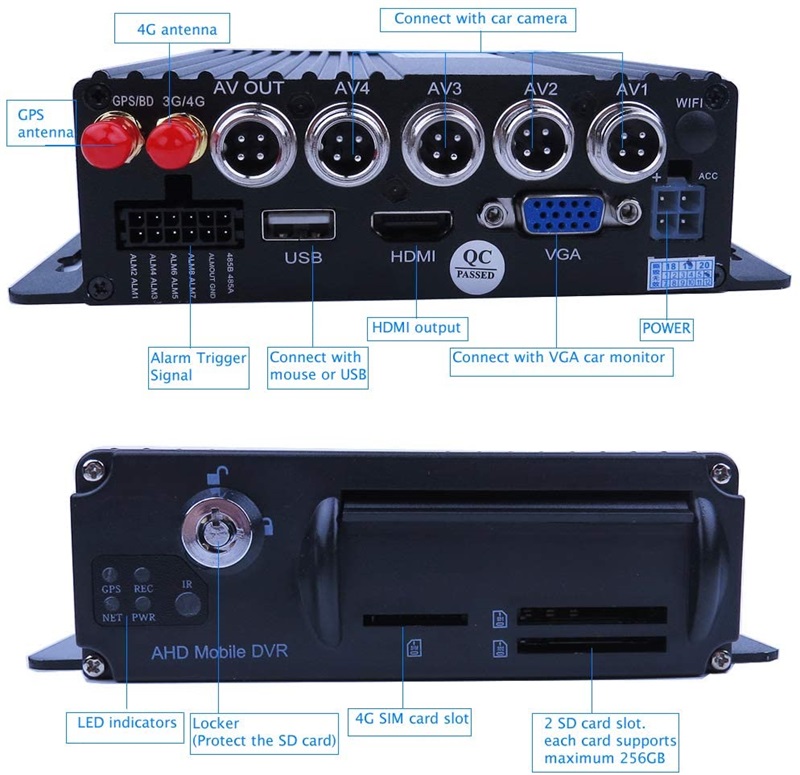 Product Specification of Mdvr With 4G GPS Wifi
| | |
| --- | --- |
| Item name | Technical Data |
| Product name | 4CH AHD Mobile DVR For Vehicle |
| Video compression standard | H.264/MJPEG |
| Audio compression standard | G.711 |
| Audio output code rate | 64Kbps |
| Picture Resolution | 1024*600 |
| Standard | PAL/NTSC |
| Working Temperature | -10℃~65℃ |
| Working Humidity | <85%RH |
| Power | DC12V |
| Power consumption | <5W |
| Signal Standard | Digital / analog |
| Operating Language | Chinese/English |
| Operating Interface | GUI/Support Mouse |
| Password Security | Admin/user password |
| Image resolution | 720p/960h/D1/CIF |
| Playback resolution | 720p/960h/D1/CIF |
| Compound Mode | 4CH 720P/4CH960H/2CH720P+2CH960H |
| NW. | 0.6KG |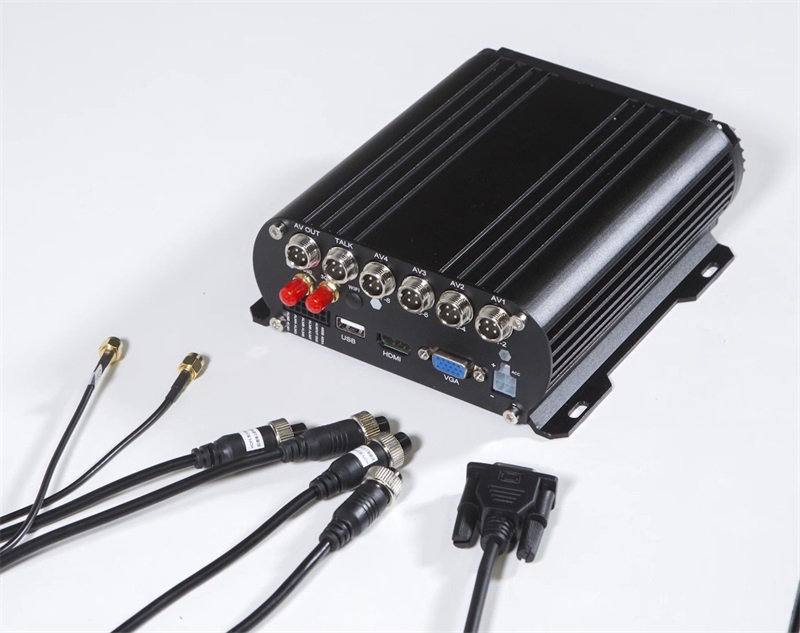 School Bus Trucks Indoor Outdoor Front and Rear Security Monitor System 4CH SD MDVR with AHD Camera and Monitor Package MDVR Set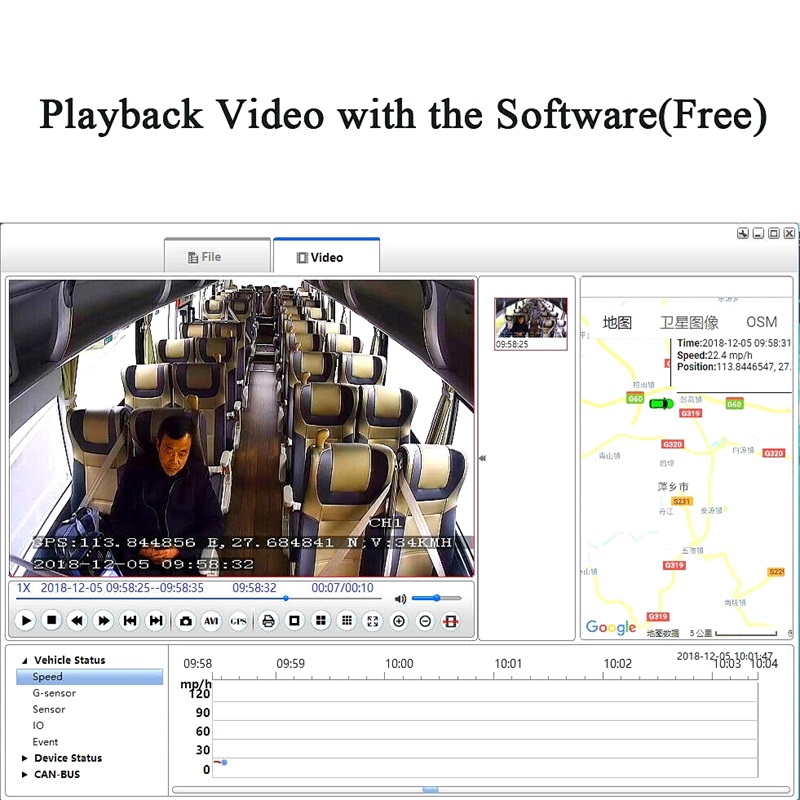 Product Application:
4G mobile dvr camera systems for all commercial vehicle, Heavy Equipment, Port Harbor Crane, Tower Crane, Container Stacker Crane Equipment, Material Handler, Excavator, Passenger Bus, School Bus, City Bus, Travel bus, Coach bus, Farm Tractor,Agricultural Machinery etc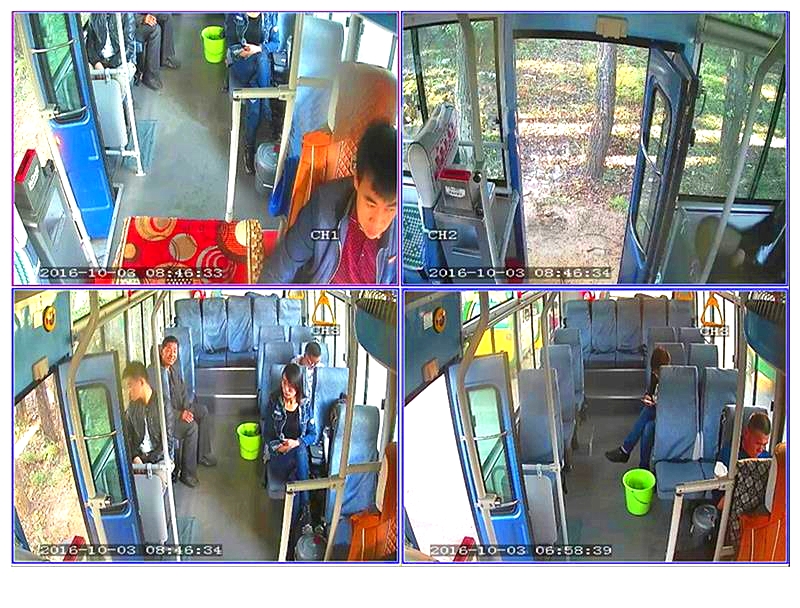 Question and Answers:
1, What is Mobile DVR For Vehicles?
mobile DVR is specifically designed for vehicles, such as buses, armored cars, subway trains, etc. A good quality mobile DVR can record for a continuous time without failure; it can withstand the frequent vibration and unstable power supply associated with vehicles, factors which are fatal to a regular DVR.
Mobile DVR (MDVR 4G) is a digital video recorder that keeps records of mobile subjects. By using the system, operation records of vehicles such as speed and position can be monitored and saved remotely by control center. Mobile DVRs are widely used in vehicles like bus, taxi, police car, military vehicle, boat, or even air-crafts.
2, Can a DVR record when the car is stopped?
Our DVRs will collate vehicle data even when the vehicle has stopped, just let us know how long you need it to be. We offer an SD version where space is an issue with its 4 channel capabilities or alternatively our hard drive version has 4 or 8 channel capabilities.