Product Name: Ultra 4K 12mm Industry Lens with 2/3'' image Format and Variable Iris
Product advantage:
1, Variable Aperture Lens From Large aperture F1.8 to Smallest F22 (creat good depth of Field)
2, Multi-layer coating, with higher transmittance and effective suppression of stray light
3, Various industrial video recording, Image Processing, Industrial Optics applications
4,All glass + metal structure design, good high and low temperature resistance, 10 Megapixels
High-performance Industrial-use Lenses, DFOV 50 degree, short TTL
5, Applied For 2/3" megapixel Industrial camera, Factory Automation Camera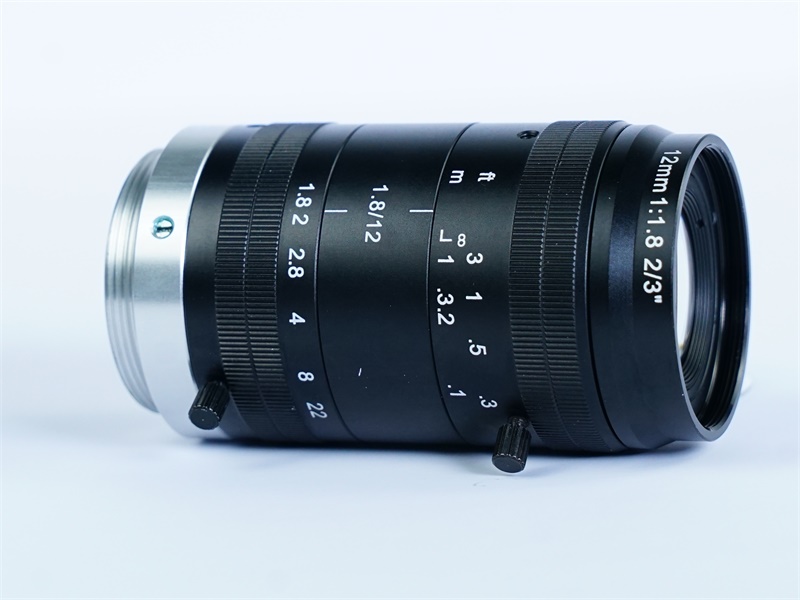 Product technical Specification of Industrial Video Lenses
| | |
| --- | --- |
| Product Model | NWA-23-10MP-12mm |
| Image Cmos Sensor Format | 2/3'' |
| Photo Resolution | 10MP |
| Focal Length | 12mm |
| Aperture | F1.8~22 |
| OBFL | 15.1㎜ |
| FOV(D×H×V) Angle of View 2/3''cmos | D50.36°/ H40.85°/ V31° |
| FOV(D×H×V) Angle of View 1/1.8''cmos | D41.47°/ H33.65°/ V25.15° |
| FOV(D×H×V) Angle of View 1/2''cmos | D37.32°/ H30.11°/ V22.74° |
| TV Distortion 2/3''cmos | -2.19%@y=5.5mm |
| TV Distortion 1/1.8''cmos | -1.51%@y=4.5mm |
| TV Distortion 1/2''cmos | -1.13%@y=4mm |
| MTF | 200lp/mm(2.5um) |
| Focusing Range MOD (Minimum Object Distance) | 0.06m ~ ∞ |
| Flange Distance | 17.526㎜ |
| Operation Mode- Focus | Manual with Lock |
| Operation Mode –Iris | Manual Variable |
| Operation Mode-zoom | Fixed |
| TTL | 67.92mm |
| Mount type | C mount |
| Filter Thread | M25.5X0.5 |
| External Dimensions(mm): | ∅30*L54.4mm |
| Structure | Full Glasses Lenses+Metal Barrel |
| Working temperature | -10℃~+50℃ |
| Storage Temperature Range | -20℃~+60℃ |
Product Application of 12mm Industrial Use Lens
Industrial cameras and lens applications
1. Industrial field: For example, when developing metal materials and resin materials, it is used to observe the direction and state of internal cracks when the material is impacted. It can be used to analyze the structure of the material when the material is destroyed, and the industrial online inspection of electronic products.
2. In the printing process of the packaging and label industry, subtle defects in high-speed printing can be detected in real time, which is convenient for taking measures to reduce losses. Common defects such as scratches, dust, missing prints, ink marks, wrinkles, etc. will be detected. Industrial cameras can be used for machine vision inspection to find printing problems, which can provide valuable information for production so that they can be taken during the production process. Measures to reduce losses.
3. In the intelligent transportation industry: speeding snapshots, red light electronic police, highway intersections, buckle tolls and other transportation industries have also made good use, and the performance of capturing high-speed moving objects is very good.
4. Machine vision, industrial monitoring and inspection, material inspection, PCB and SMT inspection, Industrial-use Lenses For Image Processing, printing and packaging, textile inspection, four-wheel positioning, solar panel inspection, robot automation, motion dynamic monitoring, robot navigation and recognition
5. Factory production automation, especially for parts identification, sorting and inspection, measurement applications, logistics and quality assurance, pharmaceutical monitoring, food processing, inspection of continuous mesh materials, such as printing inspection, microscope application, product defect detection ( Video microscope), defect detection (machine vision system detection), size measurement (one-button measuring instrument and other equipment), face recognition, security,
6. Semiconductors, mechanical parts, scientific research image processing, electronics and automobiles, medical, military manufacturing,Mechanical parts measurement, plastic parts measurement, glass and pharmaceutical container measurement, electronic component measurement, etc.
About US
we are China professional Machine Vision Lens, Varifocal Lens and Zoom Camera Module Lens Manufacturers that running our own Lens Factory and have South Korea, Taiwan and Japan Imported Optical Lens Manufacturing Machine and Fully Automated Lens Assembly Machines also Glass Lens Manufacturing Equipment and skilled workers work in 10000 Dust-free workshop。Lens Product passed CE, RoHS, REACH Certifications and factory with IATF16949 Approval.Main Lens covering Car camera Lenses (Automotive Lens),Zoom Lens, Fisheye Lenses,Industrial Camera Lens, Low Distortion Lens, M7 Lens, Wide Angle Lens M12, F1.0 M16 Lens, Motorized Varifocal Lens etc。 of course we are also Wholesale Lens Company, provide Lens Shopping here, Lens Wholesale or retail or Distribute and Custom Camera Lens