Product Name:2CH 2.4GHz Wireless Farm Agricultural Machinery Vehicle Backup Camera System for Farm Machinery
Designed for farmers and ranchers, these wireless Agricultural Machinery camera systems can help to ensure peace of mind and the safety of your farm working. The 7inch Digital wireless camera system was specifically designed for Farm Agricultural Machinery, but can be used for any security/surveillance situation. Nowdays Wireless AG Camera System are Mostly Widely used on Combine Harvest, Cultivator, Plough, Trailer, Tractors Truck, Deutz, Yanmar, Gleaner, Steiger, Versatile etc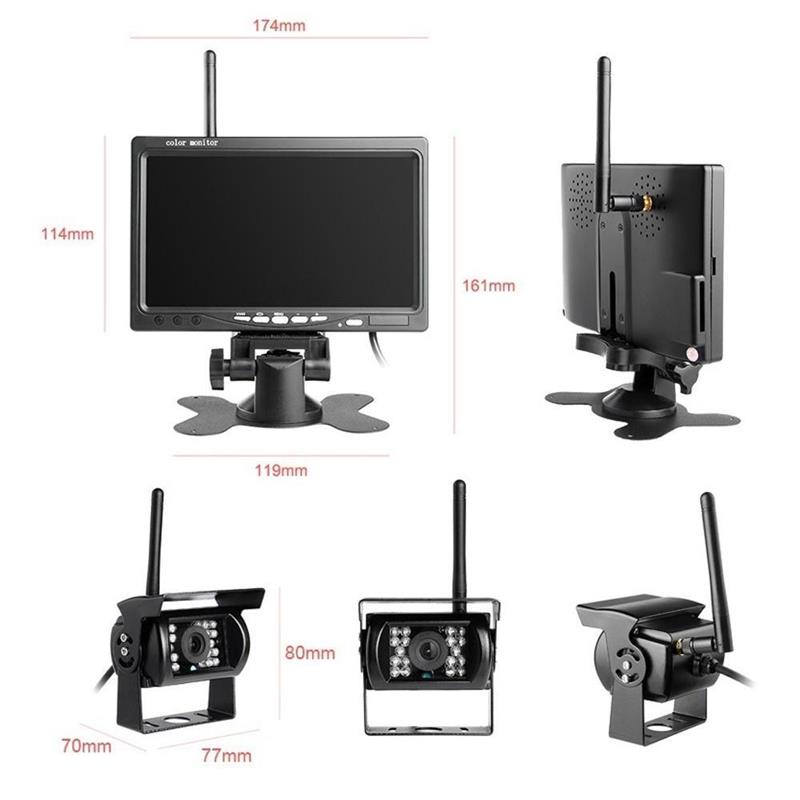 Product Features of Wireless Agriculture Cameras System
1, 7"Digital Screen Waterproof Monitor Built-in 2.4GHz Digital Wireless Receiver
And front/rearview 2 video input
2, Digital Wireless Farm Tractor Camera for Farm Agriculture Machinery
3, No backup line, unobstructed rear view
4, Comes with a car charger to get powered, no wiring trouble
5, DC 12V-24V power supply, wide compatibility for more vehicles
6, AG Camera waterproof rate is IP68. waterproof and weather resistant. It has a wide viewing angle of 120 degrees. Camera has 18 infrared lights and it make super clear night vision
7, Waterproof camera body with a sun-visor and metal bracket. Easy to mount on any flat surface of the vehicle
8. Super Stable Signal – Upgrade Wireless Signal, No Interference even at High-Speed Observation. Stay Smooth and Clear even if Speeds Up To 110mile. Still stays and clear even outdoor distance up to 100 meters. And no-interruption signal under 70ft on vehicle with reverse/continuous use.
2.4GHz Digital Wireless Camera Aluminum Camera IP69K Waterproof and 10G Vibration, IR LEDs for Night Vision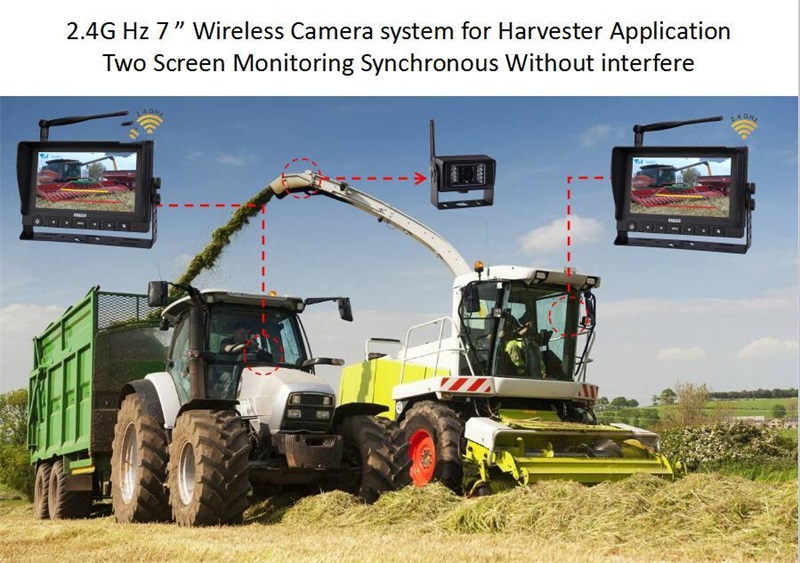 Product Specification:
(A) 7-inch TFT LCD Agricultural Farm Machinery Monitor:
7" Digital Screen TFT LCD Monitor with Removable Sun Visor
Built-in 2.4G digital wireless receiver module, supports single screen / double screen display
Operation Frequency:2400 ~ 2483.5MHz
Display Resolution: 800RGB(H) X 480(V) dot
Brightness (cd/m2): 350
Contrast ratio: 500:1
TV System: NTSC/PAL
All-function remote controller
Power Consumption: 6W
Video: 2 video input (Front and Rearview)
Housing: ABS Plastic
Color: Black
Power Supply: DC 12V - 24V
Environment humidity:10%-90%
Working temperature:-20℃-+60℃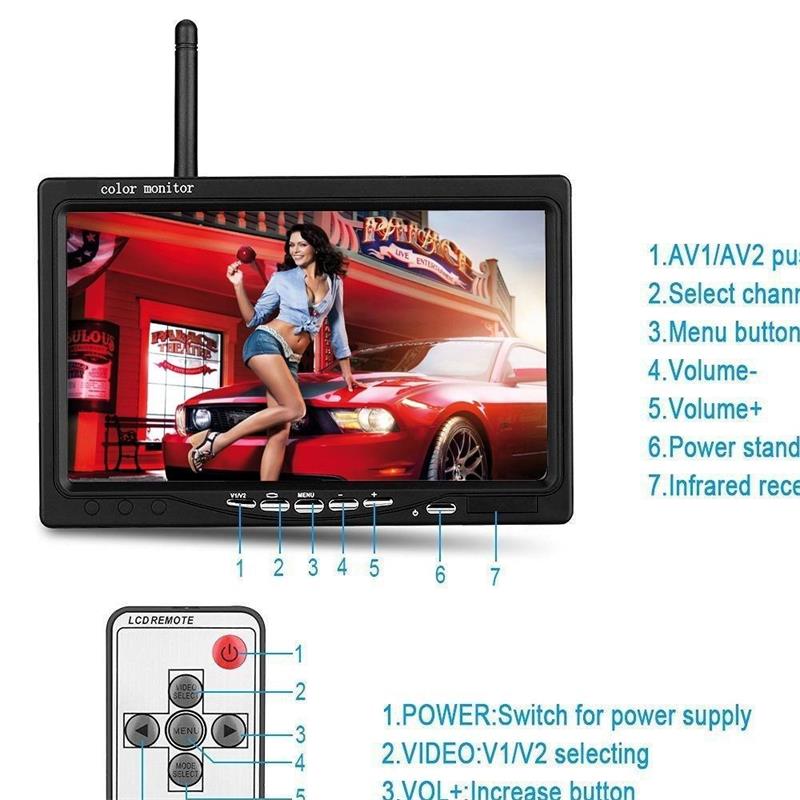 (B) Wireless AG Camera/ Farm Tractor Camera
High-definition and 120° wide viewing angles
Support color CMOS image
Waterproof: IP67
Effective Pixels: NTSC: 648x488 pixels
Horizontal Resolution: 480 TV lines
Power Supply: DC 12V-24V
Operating Temperature:-30℃-75℃ RH95%MAX
Storge Temperature:-40℃-95℃ RH95%MAX
Metal body with bracket for easy installation
Farm CCTV Rearview Camera System for Agricultural Equipment Safety Vision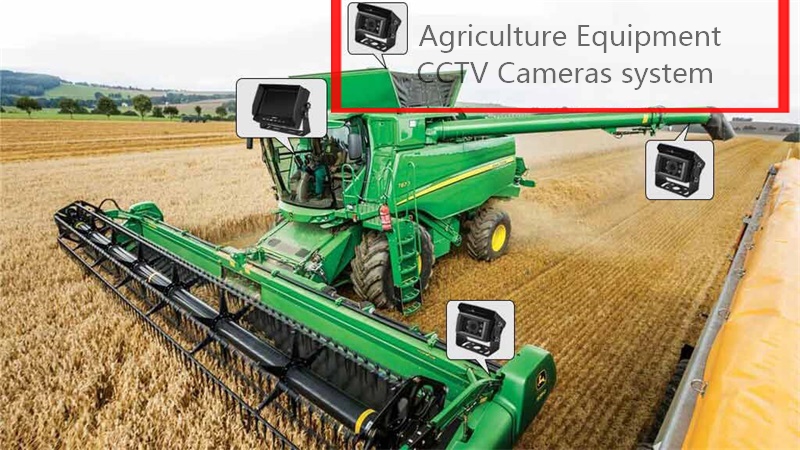 Package included:
1 x 7" Farm Camera Monitor
2 x Wireless Farm Cameras
1 x Car Charger
1 x Remote Control (battery not included)
3 x Power Cable
3 x Antennas
1 x Holder
1 x Two-sided Adhesive Tap
1 x Instructions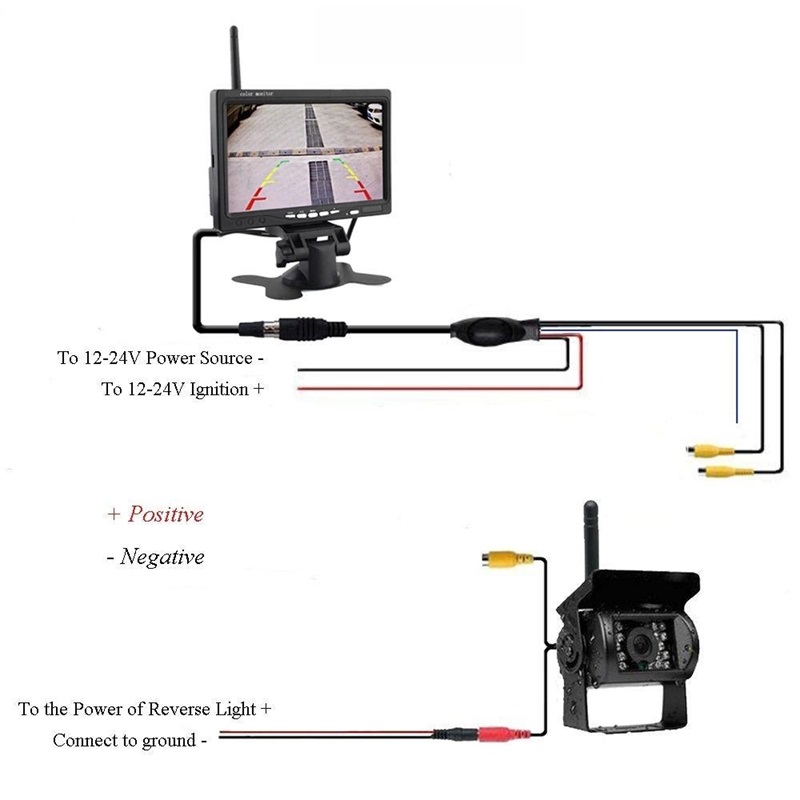 Product Application
Reversing Camera with Monitor Ideal for tractors, Agricultural and Industrial Machinery
1,This 7 inch Wireless Agricultural Camera Systems can work and equip with Farm Agriculture Machinery, Combine Harvest, Cultivator, Plough, Trailer, Tractors Truck, Barn
2, Wirless Farm Machinery Cameras can work for Tractors, Balers, Seeders, Harvesters, Pruners, Foragers, Forklifts & telehandlers, farming trucks, trailers etc
3. Agriculture Backup Camera system can work and equip on John Deere, Ford / New Holland, Case - International, Massey Ferguson, Kubota, Allis Chalmers, White / Oliver / Mpl Moline, Deutz, Yanmar, Gleaner, Steiger, Versatile, and more.
in addition we can offer wireless and wired 4 channels Agriculture Cameras system too