Product Name: Hot Sale Low Cost 4 channels Backup Camera Systems work for Trailer, RV Bus Truck, Car Cameras. 7" Quad Split Screen, Waterproof and Night Vision, 1 Rear Camera+1 Front/Doorway Camera+ 2 Side Cameras, for Semi-Truck, RV, Bus, Motorhome
Product Features:
1, Quad Split Screen
7 inch TFT LCD Vehicle monitor with CH1/CH2/CH3/CH4 four signal inputs, multiple display mode settings: full screen/ dual split/ tri split/ quad split viewing modes, it can be designed and installed according to different vehicle types, making driving safer and more fun.
2, Support Wide Voltage
This quad split driving assistance system can work perfectly under wide voltage 12-24 voltage, widely used in different kinds of heavy-duty vehicles, with the feature of simple to set up, easy to use, and low latency. To improve driving safety, Note: this product does not have the recording function, only with real-time monitoring and auxiliary.
3, 4Pin Aviation connector AHD 720P Vehicle Backup Camera for Motorhome Parking System: 7" Quad Split 4CH IPS AHD Monitor +4x AHD 720p 18pcs IR LED Night Vision Reverse Camera + 4 Pins Connector Cable. Hard wired connection guarantees safe and clear and stable reversing image
4, Easy to Install: Only need monitor connected to power, then the power could transfer from 4-pins aviation connectors extension cable to camera, needn't to connect more cable, solve wiring inconvenience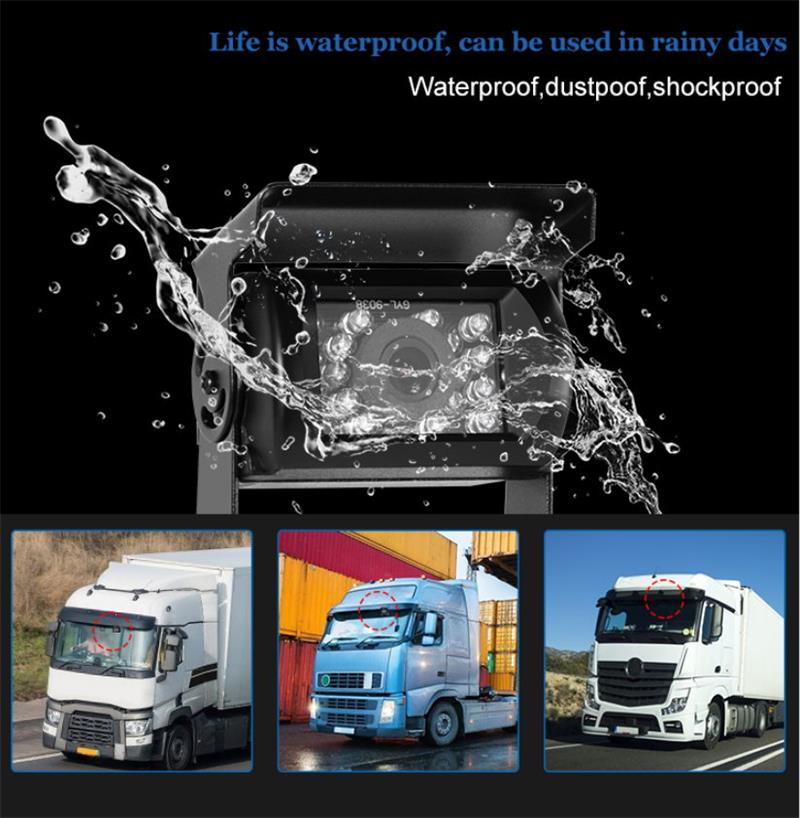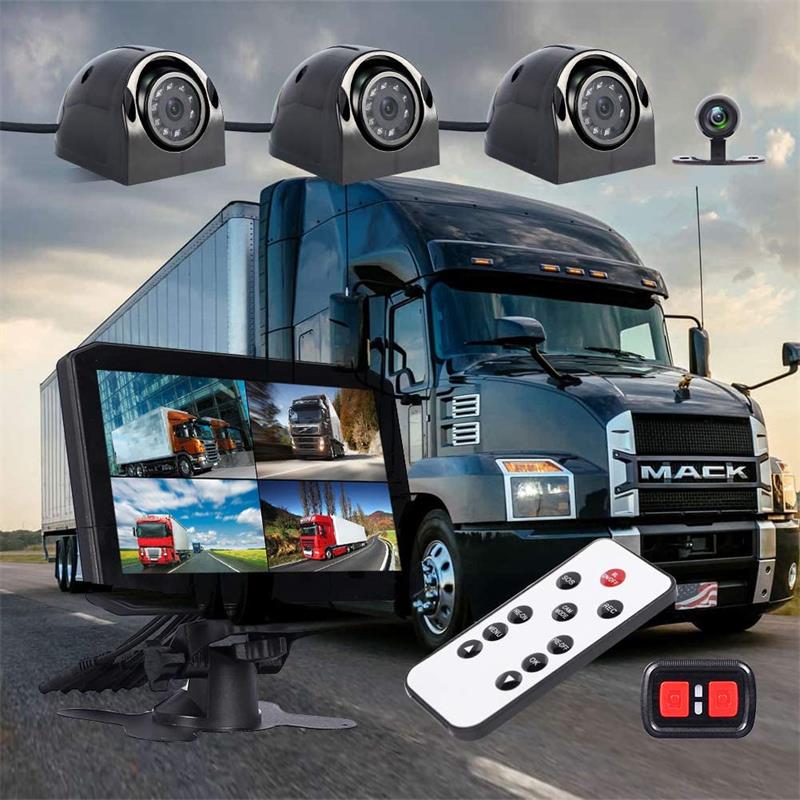 Complete 4CH Backup Camera System For Truck And Bus are include 4pcs backup Camera (or choose 1-4pcs), 1pcs 7inch vehicle monitor ( 10.1inch or 8inch or 9inch available), related mounts/bracket/sunshade to install and support monitor, 3*5meter and 15meter video cable, power Cable to power Camera and Monitors, remote control etc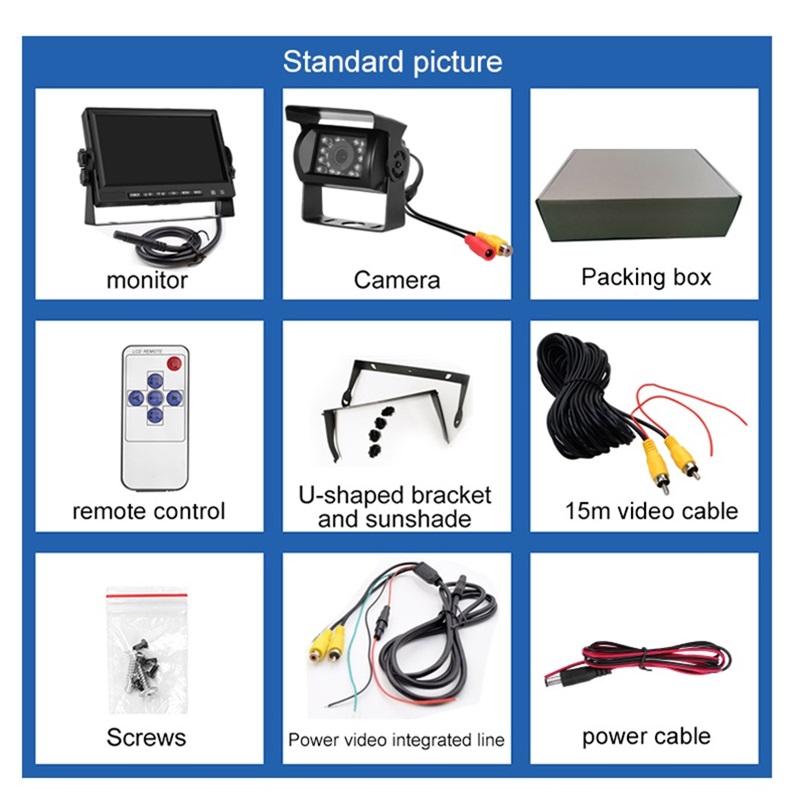 The technical specification of Backup Camera With Monitor 4 channels listed as following
| | |
| --- | --- |
| Item Name | Technical Data |
| Size of Vehicle Monitor Display | 7 inch Digital Monitor Screen |
| Power | 6W |
| Resolution | 800*480 |
| Input configuration | two video inputs |
| Working temperature | -10C~+50℃ |
| Working temperature | -20C~+75℃ |
| Dimensions | 181x130x20mm |
| Screen ratio | 16:9 |
| Remote control | support remote control |
| Video Type | PAL/NTSC |
| Power supply | 12-35V |
| | |
| --- | --- |
| Item Name | Technical Data |
| Product name | 4pcs Infrared lights Vehicle camera |
| Video Resolution | 480TVL |
| Currency | s300mA |
| Minimum illumination | 1.0Lux/F1.2 0.2Lux/F1.2 (IR Light on) |
| Operating temperature | -20℃~70℃ |
| Storage temperature | -40℃~85℃ |
| Dimensions | 73x78×26mm |
| Infrared light | 18pcs IR LED |
| Video Type | PAL |
| Power supply | 12-35V |
| | |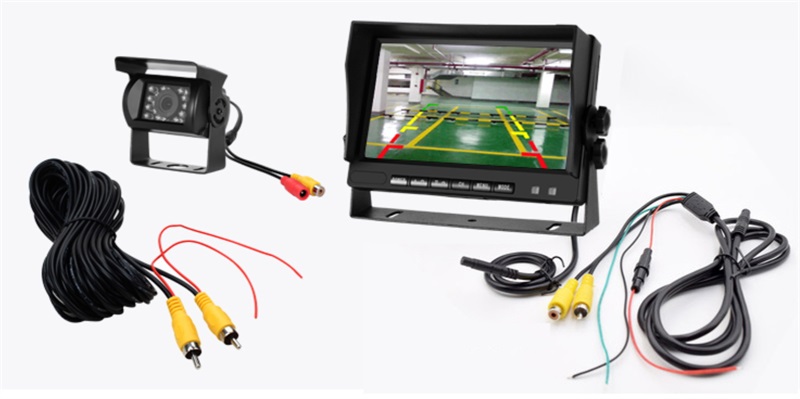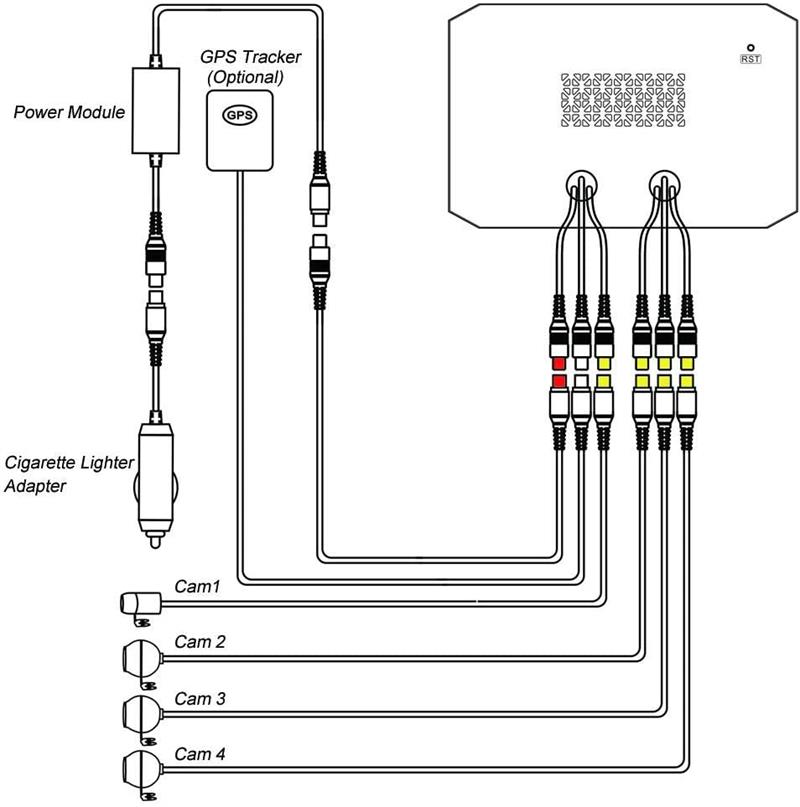 What is 4CH Backup Camera System?
backup camera (also called a reversing camera or rear-view camera) is a special type of video camera that is produced specifically for the purpose of being attached to the rear of a vehicle to aid in backing up, and to alleviate the rear blind spot. It is specifically designed to avoid a backup collision.
Therefore, when 1pcs or 2pcs or 4pcs even 8pcs or more rearview backup Cameras are installed on the vehicles (usually on the front/rear back/left side and right side), they connect with Vehicle Monitors by 5m or 15meter cables and related mount/bracket/screws, the driver can use remote control to check real-time driving video,Which mean Backup Camera System.
How does a backup camera work?
1,Your back-up camera is located in the rear of your car. It is connected to a display screen that shows you what is happening in the area behind the vehicle.
2,Some backup camera systems include sensors in the rear bumper. These sensors detect objects behind your car.
Product Application
This 7" Quad Split Screen 4CH Backup Camera System can be used on Trailer, Bus, Truck, Van, Trailer, RV, Campers, Motor Home, School bus, Pickup Truck, Travel Trailer, Oversized Truck, Dump Truck, Camping Trailer, 5th(fifth)wheel RV, Excavator, Horse Trailer and Agricultural Machine in the farm for 360-degree view vision monitor, vivid image and excellent night vision function provide drivers a safety driving in date time and night time.