Product Name:
China 7inch Wireless Reversing Camera Kit, Wireless Rearview Mirror Monitor, Super Night Vision (6 LEDs) HD Reversing Cam
7" Vehicle LCD Monitor Mirror+Wireless Reverse RearView Backup Camera Kit
Product Feature:
1,Wireless Between Camera and Monitor: When the vehicle is popped into reverse, the image is then transmitted to the monitor wirelessly. There is no need to run wires from the camera to the monitor. This will reduce most of the complex wiring work.
2,Super Night Vision: The camera has a light sensor and 6 LEDs that light up when it's dark, so you can back it up at night as easily as during the day.
3,Easy Installation: You can power the mirror monitor immediately by plugging the car charger into the cigarette lighter and easily have the backup camera set up over the license plate without much of a hustle.
4,Stable Signal Transmission: Thanks to IP 67 waterproof transmitter, it can be installed to any places where the signal is strong enough. No need to worry about rain.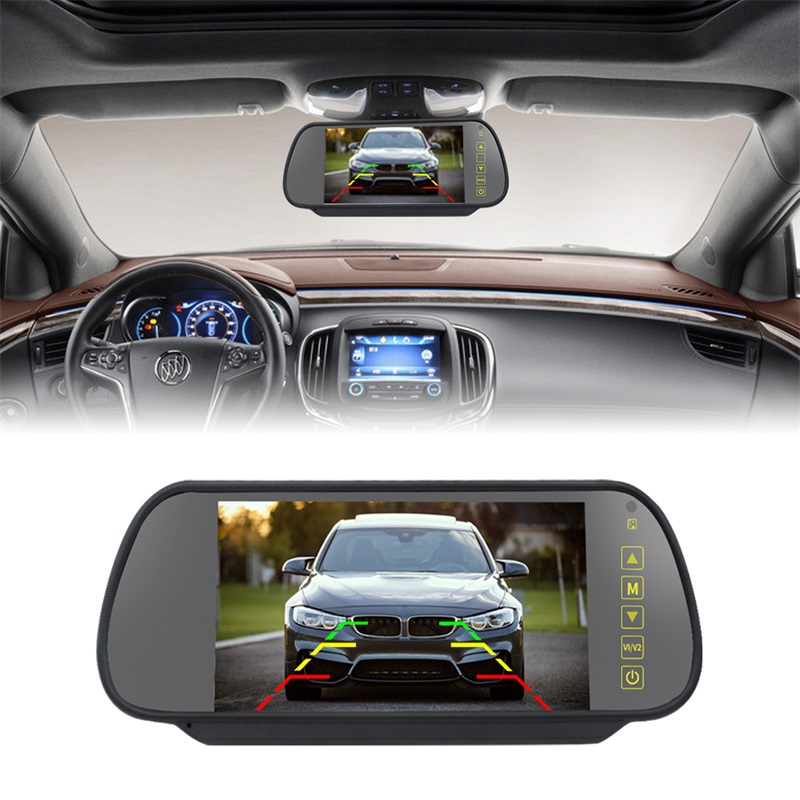 Product Specification of Wireless Backup Camera With Mirror
- Analog Wireless signals, No interference under 26ft vehicle for High-speed driving Observation use, under 30ft for Parking use.
- Never pull a long video cable through the cars
- Anyone can install it by know how to wire to reverse lights or running lights.
-Wireless Backup Camera, No color difference during the day and night,the picture is colorful, as same as the outside
-Upgraded waterproof standard to IP69 and viewing angle to 150 degree
7'' Rearview Mirror Monitor Features:
-- 7 inch LCD Rearview Mirror Monitor
-- Screen size: 7 inch
-- Aspect ratio: 16:9/4:3
-- Resolution: 480RGBx234
-- Video system: NTSC/PAL compatible
-- Power supply: DC 12V~24V
-- Rated power: 7W
-- Supports car DVD, VCD, camera, and other video equipment
-- With 2 video input port AV2 connects to car rearview camera, AV1connects to DVD or VCD
-- When parking the car ,the rearview image appears onto the screen automatically
-- Operation mode: touch buttons and remote control operation
-- With the menu button,brightness/contrast/hue/ language is adjustable
-- No audio input or output
-- Operating Temperature: -10℃~+50℃
-- Storage temperature:-20℃~+60℃
-- Easy installation, without damaging any parts of the car, clip on theoriginal mirror
-- Special optical lens substitute the original rearview mirror.
7 inch Car Wireless Reversing Camera Kit with Mirror Monitor, License Plate Rear View Hitch Camera with 5'' Mirror Monitor for Trucks,Cars,Vans,SUVs Waterproof Camera Super Night Vision Parking & Reversing
Specification of Backup Camera
-- Image sensor: CMOS 7070
-- Lens angle: 120°
-- Effective pixels: 656*492 pixel
-- Resolution: 420TVL
-- TV system: NTSC/PAL optional
-- With a distance line markings
-- White balance: automatic
-- Waterproof grade: IP67
-- Power supply: DC 12V
-- Current consumption: 60mA
-- Sensing area: 4.08x 3.102mm
-- Minimum illumination:0.1-0.5Lux/ F=1.2 (0 Lux with IR on
-- Video output: RCA connector, 1.0Vp-p, 75ohm
-- Operating Temperature: -20℃ - 75℃,RH 95% MAX
-- Storage temperature:-40℃ - 85℃,RH 95% MAX
-- Color: black
-- Night visual range: 0-5m
-- Applicable to the various brands of vehicles: cars, mini-vans, etc.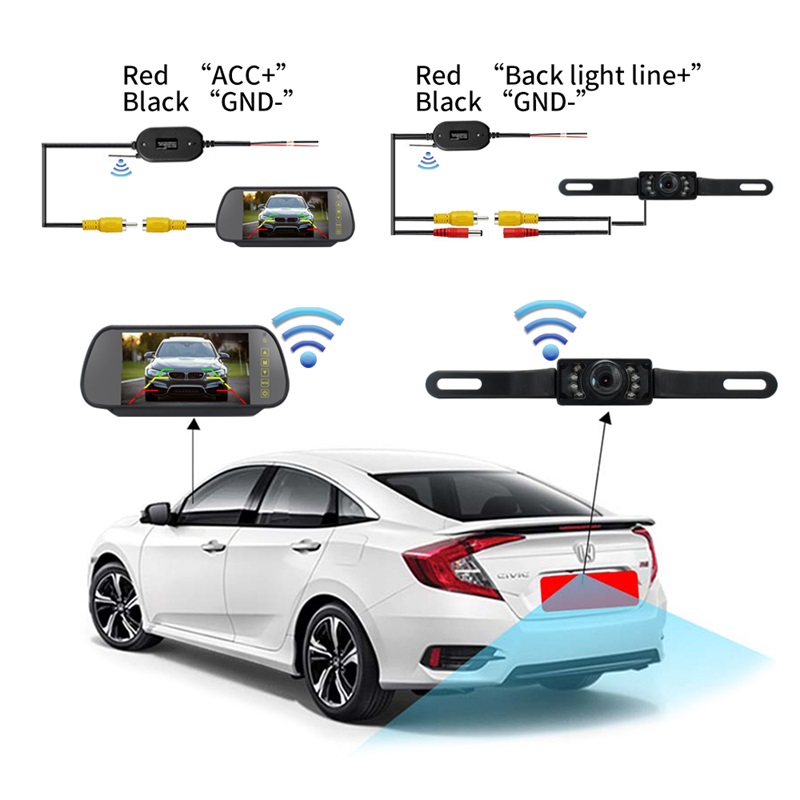 Technical Specification of 2.4GHz Wireless Reversing Camera
Wilreless frenquency:2370MHZ
Voltage:DC=12V
Resolution:PAL/NTSC
Wireless transmit distance:15M
Working temperature:-20°C+70°C
Vedio ouput:PAL/NTSC
Receiver sensitive: -85Dbm
DC OUT:DC=5V 1.5A
Connector:RCA connector
Wireless Backup Camera Kit, Easy Installation with No Wiring, No Interference, OEM Look with IP 68 Waterproof Super Night Vision Rear View Camera
Installation steps of Wireless License Plate Camera Mirror Kit
• Install the backup camera to your existing license plate & connect to the wireless transmitter.
• Connect the red wire of the transmitter to reverse light(+) and black wire to any metal ground screw.
• Take off the straps and bind it to your existing mirror; plug the car charger.
• Please check the user manual to get the details steps when you order it.
• All done! Drive safely!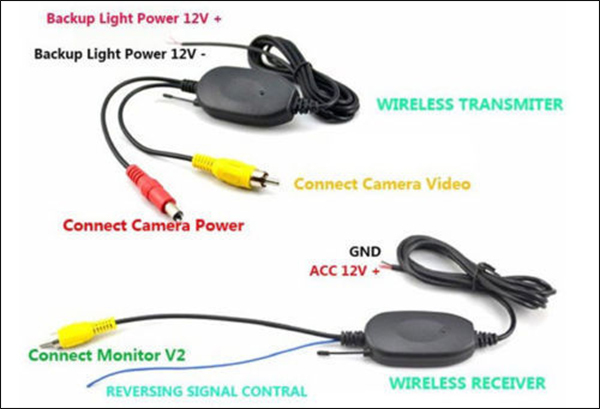 Package Included:
1 x 7 inch LCD Rearview Mirror Monitor
1 x Remote control
1 x Video & power cable
1 x Car Rear View Camera
1 x Power cable
1 x wireless singal receiver
1 x wireless signal transmitter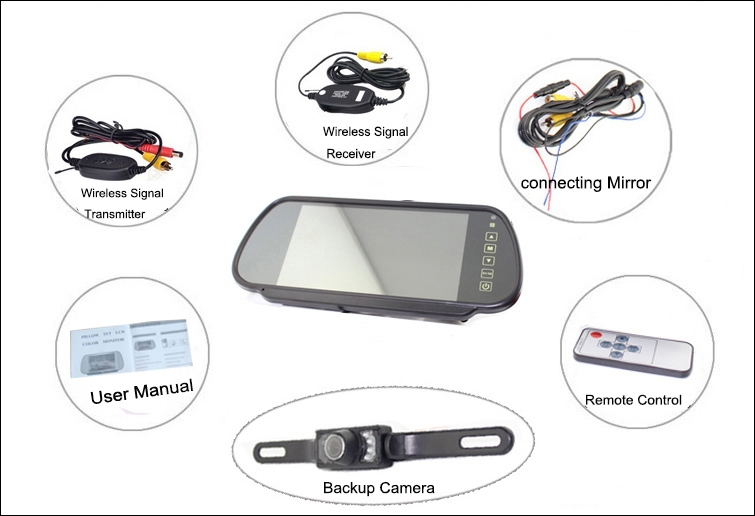 Product Application
1, This 7 inch Wireless Reversing Camera Kit work and suit For Cab/Taxi,Ambulance,Fire engines,Lorry,Garbage truck,Safe transporter, Emergency Vehicle,Van,Trunk Sprayer,Mechanical Sweeper,
2, Wireless Reversing Camera Mirror Monitor apply For RV,motorhome,Recreational Vehicle,caravan,reisemobil,Campervan,camping car, Trailer,Camper, camping van, Wagon,